Kourtney Kardashian Posts a Poolside, Leopard Print Bikini-Clad Belfie
The beautiful thing about modern technology is that now not only can you use your telephone to call people, but you can also connect with millions of strangers via social media who will follow your every makeup-free move courtesy of the camera also stored in that same aforementioned device. And as Kourtney Kardashian discovered on Sunday, the cell phone serves another very important purpose: the perfect scapegoat for when you need to take a good old-fashioned belfie.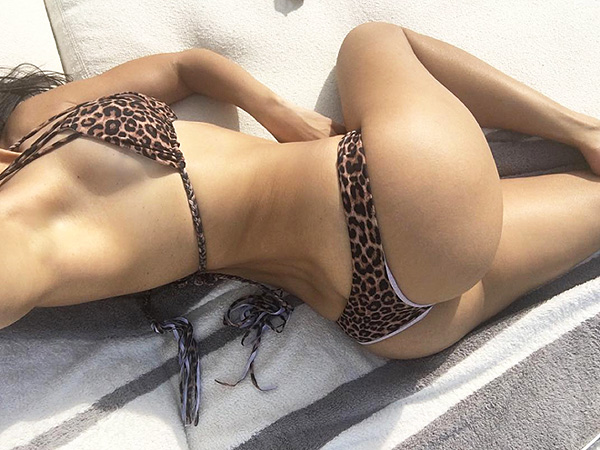 Kourtney Kardashian/Instagram
The reality star spent her weekend lounging poolside in a leopard print bikini from Acacia, when the great philosophical paradox of the Kardashian's existence suddenly struck her—if I don't Instagram this did any of it really even happen? And so, naturally, a selfie had to be taken, but with nary a professional photographer nor a friend to take one of Kourt's signature triplegrams in sight, what was a girl to do? Why, strike a dramatic, contorted lounge chair pose, snap a belfie, and blame it on the angle your selfie camera happened to land at, of course.
RELATED PHOTOS: In Their Own Words: Kourtney Kardashian & Scott Disick's Highs and Lows
RELATED VIDEO: VIDEO: Kourtney & Scott Reunite

The caption on this shot, "Selfie camera view," seems to imply the eldest Kardashian is shirking all responsibility for the taking and posting of this sexy poolside snap. It's sort of the #IWokeUpLikeThis of the technological world, but also a potentially genius new marketing ploy for Apple. Just think of the time we'd all save if your phone just went ahead and took and posted all of your most scandalous belfies on your behalf!
What do you think of Kourtney's belfie? Sound off below!
–Emily Kirkpatrick
Follow @kirkpate