When Scott Disick Needs a Mani-Pedi, the Mani-Pedi Comes to Him
When Lord Disick needs his nails groomed, he doesn't get in his car and drive down to the nail salon like the rest of us commonplace plebes. But rather, in the world of Scott Disick, when a mani-pedi needs to be had, with a snap of the reality TV royalty's unvarnished fingers his glam squad finds him.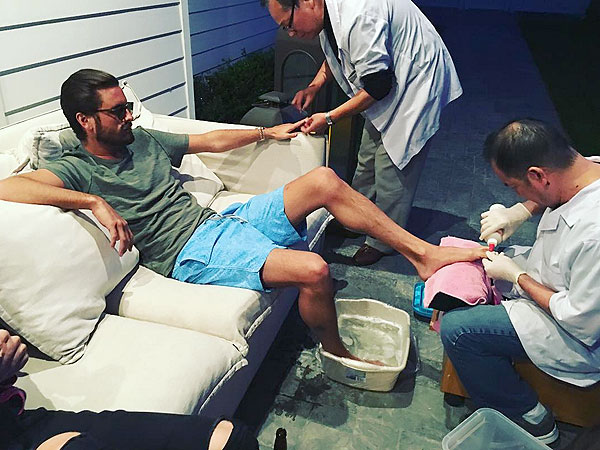 Scott Disick/Instagram
If there's one thing Disick has learned from his decade-spanning relationship with one of the biggest reality stars in the world, Kourtney Kardashian, it's surely that the rules that the rest of us live by are meant to be broken. Case in point, the 32-year-old's most recent Instagram snap captioned, "When they come 2 u 💅," showing him receiving some simultaneous nailcare services from the comfort of his own couch.
RELATED PHOTOS: 9 Times Kourtney Kardashian's Sisters Were Amazing Aunts to Her Kids
RELATED VIDEO: Scott Disick Says His Daughter Is One of the Few Things He's Proud of in Life

While some would argue sticking your feet in a plastic tub full of lukewarm water out on your patio isn't exactly living in the lap of luxury, we say anything that gets us groomed without interrupting our House of Cards binge sesh is pretty much the definition of indulgence.
What do you think of Scott Disick's luxurious mani-pedi? Would you splurge on getting it done at home if you had the money?
–Emily Kirkpatrick
Follow @kirkpate