Watch Patrick Dempsey Model Wife Jillian Dempsey's Makeup Line in Adorable Instagram Video
Patrick Dempsey is one doting husband. The actor is so proud of his wife, celebrity makeup artist Jillian Dempsey, that he agreed to test-drive one of the products from her new eponymous makeup line in an adorable tutorial on Instagram.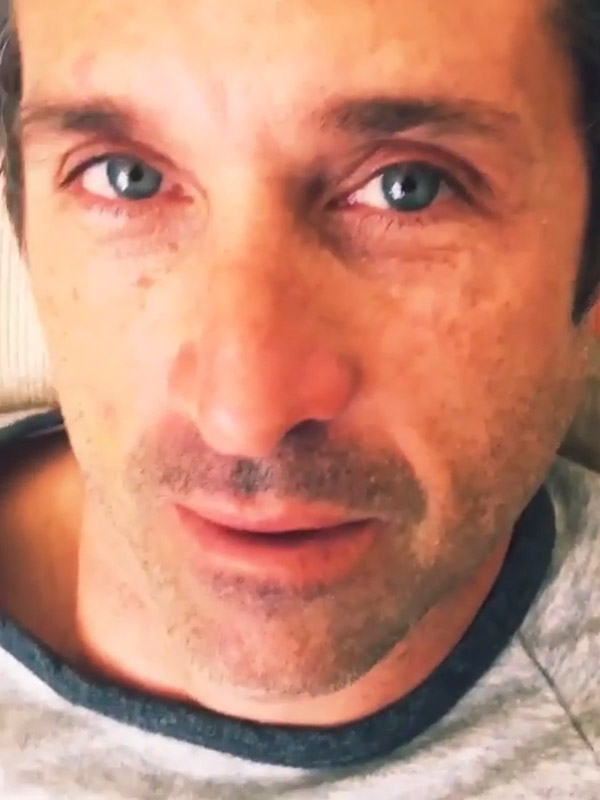 Source: Courtesy Patrick Dempsey Instagram
"I'm Jillian Dempsey, and I'm here to demonstrate how the Jillian Dempsey Lid Tints are applied," she narrated behind the camera, as she applied the eye gloss to her (ready and willing!) husband's lids, which are "nice," as she notes in the clip.
"Open — gorgeous!," she exclaims as the 50-year-old actor shows off his new rosy glow.
For his part, Dempsey shared that he couldn't be happier for his wife.
"I'm not a makeup guy, but I'm proud of my wife's innovative product, Lid Tints for eyes #jilliandempsey #lidtints @jilliandempsey video by @thefashionsight team," he captioned the video. It's another loving gesture for the very back-on again couple, who have been showing signs of their reconciliation everywhere from L.A. to St. Barts.
RELATED VIDEO: Beauty Hack: The Key to Your Best Skin Ever Is in Your Fridge

Dempsey isn't the only celeb significant other who's been game to play guinea pig during the makeup testing process.
Last year, Demi Lovato enlisted boyfriend Wilmer Valderrama to try out her then-new skincare line, Devonne by Demi.
The result? A hilarious infomercial demonstrating just how to use (or over-use, in this case!) the line's primer and hydrating mist.
RELATED PHOTOS: Athleisure Beauty: Makeup for Your Next Sweat Session
While most stars tend to keep their private lives, well, private, it's fun to see couples openly supporting one another, like Dempsey and Valderrama. And agreeing to have your makeup done in front of millions of fans on social media seems to be the highest form of appreciation.
Has your significant other shared your makeup? Share below!
–Sarah Kinonen
Follow @sarahkinonen