Kendall and Kylie Jenner Have a Sexy Sister-Sister Fashion Faceoff in Their Own Collection
What's better than a style showdown between the Jenner sisters? That's a rhetorical question, because nothing could top it. The youngest members of the KarJenner brood have been busy promoting their Kendall + Kylie collection (you know the one, crop tops, mini dresses, gladiator sandals, etc.), and they just happened to wear the same exact looks (in opposite colorways) to recent bi-costal events. See the split below.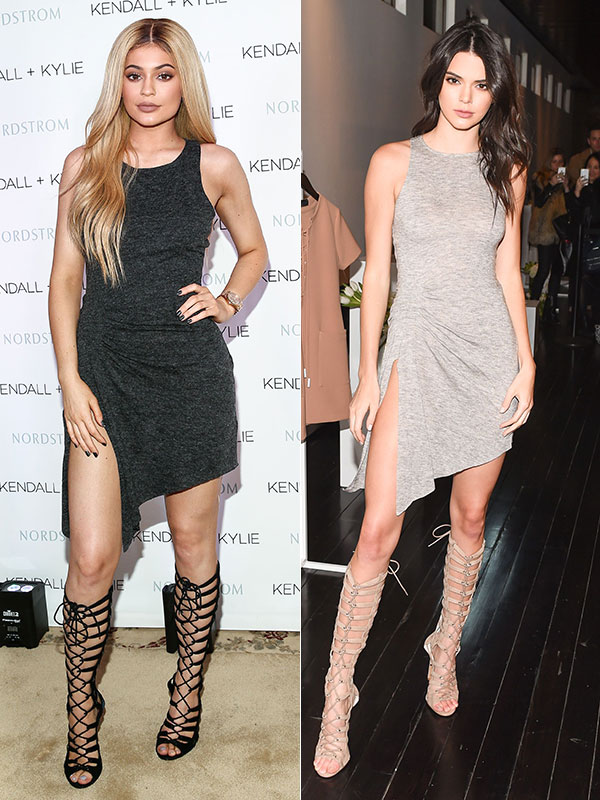 REX/Shutterstock (2)
On Thursday, at a Nordstrom luncheon celebrating their collection in L.A., Kylie selected the charcoal gray "Raw Edge" Jersey racerback dress from the line, plus black "Emily" gladiator heels from the collection. Kendall wore the exact same outfit in a different color palette to the N.Y.C. launch last month, selecting the dress in heather gray and the same gladiator sandals in a taupe suede.
At the L.A. event Thursday, Kendall (who wore a gingham crop top and matching cropped pants from the collection) told PeopleStyle that her favorite piece is the "Raw Edge" dress.
"It fits really nicely and it's just super easy — you can wear it with sneakers or heels to dress it up or
down."
As for the gingham look, Kendall added, "I feel like I'm going to a picnic, and I kind of am!"
RELATED PHOTOS: 26 Things We're Buying for Spring
Kylie shared that she's most obsessed with the shoes.
"I've seen a lot about the shoes," she shared. "Even all of my friends are like 'How do we get the shoes? Can we get the shoes?'"
The sisters also told PeopleStyle that their Kendall + Kylie line differs from their collaborations with Topshop and PacSun because it's "more sophisticated."
"As we mature, our lines mature with us," Kendall said.
Now, there's only one thing left to ask… Vote in our fashion faceoff poll below, and share any additional thoughts in the comments!
–Brittany Talarico, with reporting by Nicole Sands