The World's Hottest Math Teacher, Pietro Boselli, Just Signed a Modeling Deal with Armani
You've stalked him on Instagram. You've taken his math class (if you're one of the lucky few chosen undergrads, that is). But now, the rest of the world will finally know the beauty that is Pietro Boselli i.e. "the world's hottest math teacher," because he just signed his first major modeling deal with Armani.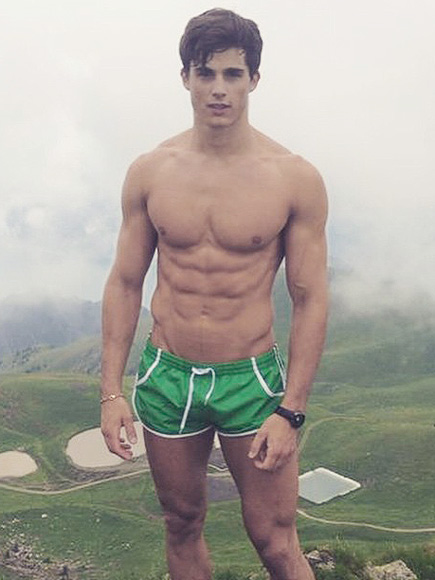 Pietro Boselli/Instagram
Boselli, who has been steaming up all of our Insta feeds for almost exactly a year now after his student's uncovered their math teacher's secret double life, reportedly just inked a deal to serve as the face of Giorgio Armani's athletic-inspired EA7 line. Seems appropriate given the engineering Ph.D's penchant for physical fitness, often saying he's addicted to training and posting videos of himself performing his daily workouts, or casually doing a few 100 pull-ups.
RELATED PHOTOS: Look Familiar? Model Kids with Famous Parents
RELATED VIDEO: The Perfect Equation: World's Hottest Math Teacher Chats with PEOPLE

And as it turns out, this is nowhere near the first time the math teacher and University College London PhD has worked for the Italian luxury brand. In fact, according to his website, Pietro kicked off his modeling career in 1995, at the tender age of 6, as the face of the Armani Junior campaign. A position he held for five years before being scouted and signed in Milan by a talent scout agency.
After taking a 7 year hiatus from modeling, at 18, he was once again called in for a test shoot with Armani, thus beginning his career as an Armani exclusive runway model, walking in all of the brand's shows, despite his main focus on academics. He's also shot with Bruce Weber multiple times, worked with Moschino, Equinox and Vogue, and shot with a handful of all-star photographers. So really, the only question we have about this new campaign is, what took them so long?
What do you think of Pietro Boselli? What campaign would you like to see him do next?
–Emily Kirkpatrick
Follow @kirkpate