Emma Roberts Was Nervous For Her Un-Retouched Lingerie Campaign Because 'I Have a Complex About Being Pale'
Emma Roberts had to bare quite a bit to star in the latest #AerieREAL campaign (which portrays un-retouched models wearing the line's lingerie), but it wasn't stripping down to her skivvies that worried her the most.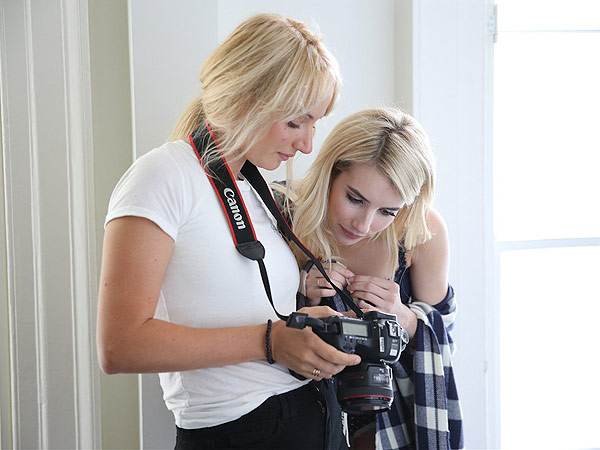 Neilson Barnard/Getty
"I definitely have a complex about being pale because I've been made fun of my whole life, so I was nervous about that," the actress, 24, told PEOPLE Thursday after the photo shoot for Aerie's Fall 2015 campaign.
"When I was a kid, everyone would be like, 'Your legs are so pale! I can't believe you're wearing a dress!' And I would get so embarrassed," Roberts adds of her longtime insecurity. "I would get spray tans, and I look back at those photos now, and I just think: Oh my goodness, you're orange. I would tell my younger self to stop spray-tanning so much. Just own it."
Aerie launched the award-winning ad campaign — which features un-retouched shots of women of all skin tones and body types — last year, and Roberts was eager to take part.
"I just loved the messaging behind it. I thought the whole idea was so inspiring," says the Scream Queens star. "Yes, I'm an actress, but I'm also a real girl. Seeing [Photoshopped] ads, you get kind of bummed. You're like, 'Ugh, do these people really look like that?'"
The star hopes that by embracing her insecurities, she'll inspire others to do the same.
"I feel like whenever girls see the word 'real,' they automatically think 'flaw,'" says Roberts. "I hope that with this campaign they start seeing 'real' as beautiful and just who you are, inside and out."
PHOTOS: The Hottest Celeb Accessory of 2015: This Swan Raft!
And though her complexion concerns were her biggest obstacle to feeling comfortable on set, Roberts admits she amped up her fitness routine once she got the gig.
"They gave me the date for the shoot, and it made me definitely work out more and be healthier and want to take care of myself more up until the shoot," she adds. "And I think that change is gonna stick — it's been good for me."
Related Video: Want phenomenal cleavage? Try this!

Roberts also admits she was "so nervous" about baring nearly all for some of the shots, but her glam squad rallied around her to lighten things up.
"I had my stylist, hair and makeup people there, and they all just started kind of dancing around and putting on my favorite songs and making me laugh and making me feel comfortable," she says. It doesn't get more real than that.
Are you excited to see the ads? Do you like the campaign?
—Jeff Nelson