Happy 40th Birthday, Angelina Jolie! Let's Celebrate with a Throwback Thursday of Your Best-Ever Style Moments
We know, we know. We can't believe Angelina Jolie is 40 either. But she's had enough amazing style moments to pack a lifetime twice that long, which we're happy to celebrate on this very convenient Throwback Thusday. From her late-'90s red-carpet reign to her Brad Pitt baby-bump days and that now-famous 2012 Oscars introduction to Angie's Right Leg, Jolie has an impressive track record. Below, check out the style team's favorites (and be sure to share yours in the comments!)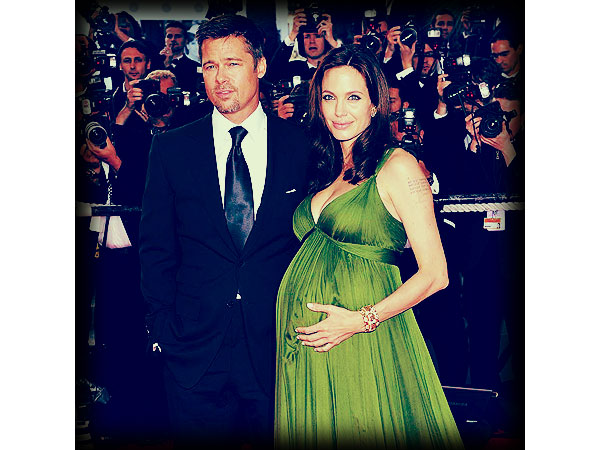 Alpha/Landov
Brittany Talarico, Associate Style Editor: The year: 2008. You can't walk into a pharmacy or supermarket without seeing Angie and Brad's faces all over every magazine on the newsstand. Angie's pregnant with twins (Vivienne and Knox — now 5!), and she's still managing to kill it on the red carpet. The best example? The actress at the Kung Fu Panda Cannes Film Festival premiere. She radiated in a green Grecian-style Max Azria Atelier gown and in mostly every photo has her hand perfectly draped on her growing bump. Maybe it was the pregnancy hormones or maybe it was the unexpected color of that gown (yay, it's not black!), but in my opinion, she's never looked better. Plus, Brad looks so sexy and proud by her side I actually had one of those "Aha!" moments where I realized the power of Brangelina.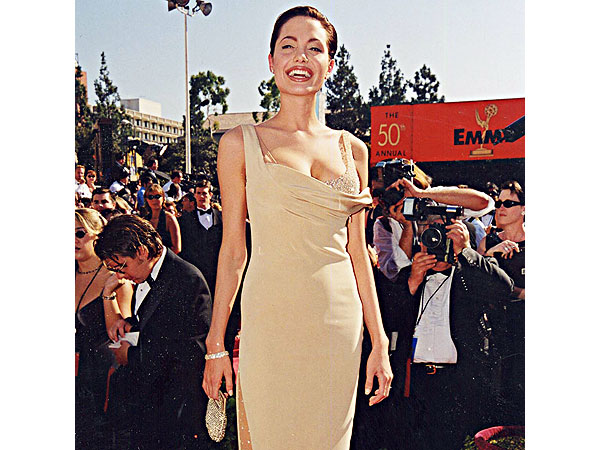 Getty
Catherine Kast, Style Editor: We've basically been beaten over the head with "old Hollywood glamour" when it comes to standout red-carpet looks, but I feel pretty good about calling Angelina's 1998 Emmys look just that. The silhouette of her Randolph Taylor gown with its slight draping and shimmer, combined with a bold lip, updo and a smile as big as her star quality make this look timeless. Okay, her lip color does feel a little '90s, but I'm willing to call her gown futuristic. Why? The glittery panel in the slit of the gown foreshadowed her famous leg pose from the 2012 Oscars (see below) — her toned right leg is kept under (albeit gilded) wraps. Plus, I've always been a fan of tactful body con, and this gown is it. It's tough to pull off a beige, close-cut look; unless you're Rihanna, no one wants to look too nude. Angelina's gown breaks up the monotony of the basic column with an inset of a crystal-encrusted bustier and slip.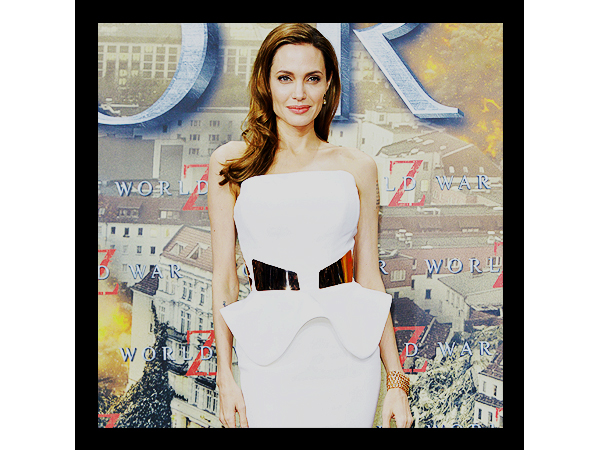 Splash News Online
Jackie Fields, Beauty Editor: The peplum number Angelina wore to the World War Z premiere in Berlin will always rank among my favorites because the silhouette flatters her every curve. Plus she proved that while black will always be her go-to, she can turn it out in ivory too, especially when the dress is decked out with some bold gold hardware. And after stunning in another white Ralph & Russo dress last year, my fingers are crossed for another collaboration from the birthday girl and the brand in 2015.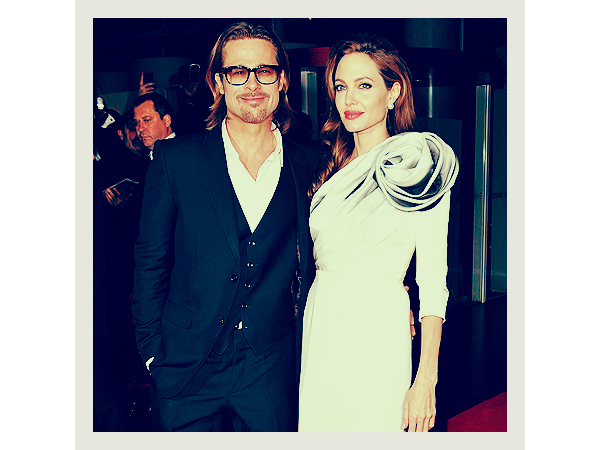 Getty
Andrea Lavinthal, Style and Beauty Director: My number one Angelina ensemble of all time is her tuxedo moment, but Alex called it first, so I had to go down the list to my second favorite look, which is the Ralph & Russo custom design she wore to the premiere of In the Land of Milk and Honey in Paris in 2012. The one-shoulder gown featured a dramatic hand-dyed organza floral detail yet was still consistent with her signature understated style. A bright coral lip provided the perfect pop of color to the otherwise neutral look.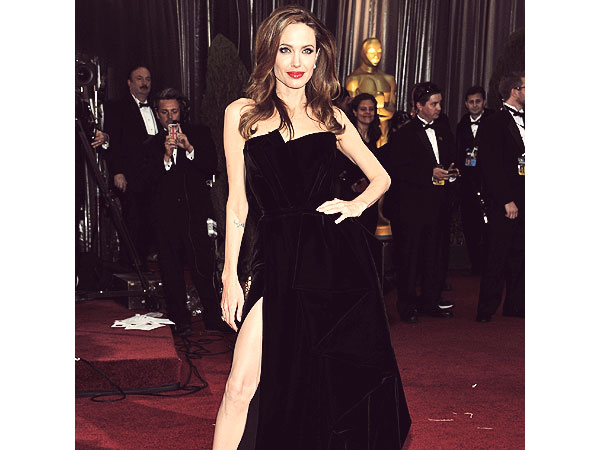 Getty
Sarah Kinonen, Editorial Assistant: Remember the Angelina Jolie Atelier Versace dress that became an Internet sensation in a matter of seconds? You know, the leg from the 2012 Oscars? Of course you do. We all do. Well, it also happens to be my favorite red-carpet look (of all time) from the actress. So much glam, so much gorgeous, so much leg. Just wow.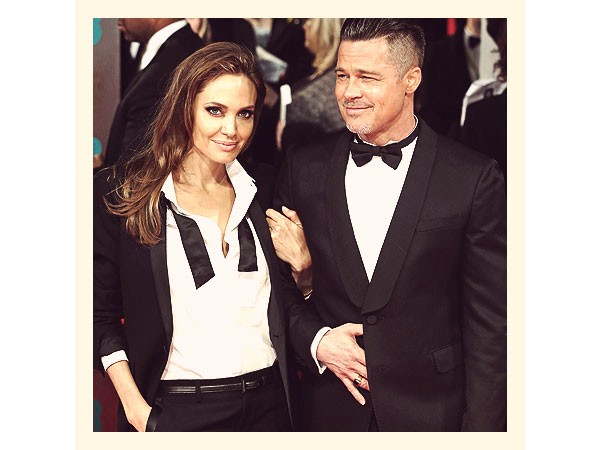 Getty
Alex Apatoff, Style News Editor: My favorite thing about Angie and Brad's couples style is that they both always show up looking like they made a minimal amount of effort (they have six kids at home, don't ya know) but still manage to out-movie-star everyone else within a 60-mile radius. At the BAFTAs this year, they were a prime example of this phenomenon, wearing his-and-hers tuxes, barely done hair, matching knowing smiles and a whole lotta wattage between the two of them. And though I'm not the biggest fan of Jolie's red carpet style (wear some color. Any color), even I couldn't deny that she made menswear look good in her custom Saint Laurent suit.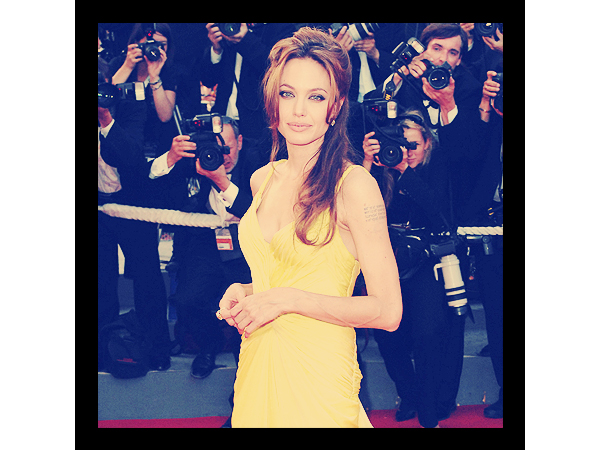 Ramey
Colleen Kratofil, Writer/Reporter: Seeing Jolie in color is a rare red-carpet sighting (what can we say, she just loves a good black or blush tone), so this bright yellow Emanuel Ungaro dress she wore to the 2007 Cannes Film Festival always sticks in my mind. The shade is a tricky one to pull off, and of course Jolie manages with flying colors. But I'm so enamored with the dress I can't forget to mention my second favorite part of this look — her hair! It was her signature "mid-decade 'do" with a voluminous half-updo and wavy face-framing bangs.
What's your favorite Angie fashion moment? Share below!