We Tried It: On-Demand Beauty Apps
If there are two things PEOPLE StyleWatch editors love, it's beauty treatments and convenience.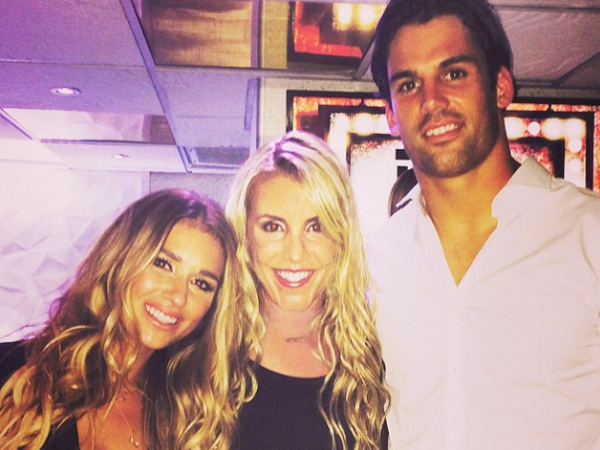 Courtesy Brittany Talarico
The App: TheStylisted, available in New York City and Chicago
Who Tried It: Brittany Talarico, Style News Editor
Usability Rating (from 1-10): 10! Simple to navigate, informative and fun design
The Experience:: If you're in a pinch and have a party on the calendar, this app is worth checking out. Through work, I was invited to a dinner cruise with Eric and Jessie James Decker (welcoming the couple to New York and fundraising for their charity). Background: I'm a huge fan so I geeked out a bit and wanted to make sure I looked cute. So I booked an afternoon appointment for hair and makeup two days before the event to be safe. I found the app aesthetically pleasing and easy to use. My hairstylist arrived first to the office, and I was very impressed with her selection of products. (Lots of Oribe!) I wanted some soft waves, but she suggested curling my strands a bit tighter (my hair is pretty heavy) so the waves had some time to fall. They ended up a bit too tight, and I think there was too much product in my hair. I made sure to do the hair flip and shake trick a few times to get that more relaxed movement and body. On the makeup front, I went for a soft smoky eye, nude-pink lip and a soft bronzy complexion. I'm not used to wearing much foundation, so it felt a bit more dramatic than I had anticipated, but overall I was pleased.
The Verdict: 6/10. If it's your first time using TheStylisted, you should book it for something like a friend's bachelorette party not your own. You want to make sure you're comfortable with the service and find the right stylists to work with before getting all glam for a big time social event that will be all over your Instagram feed.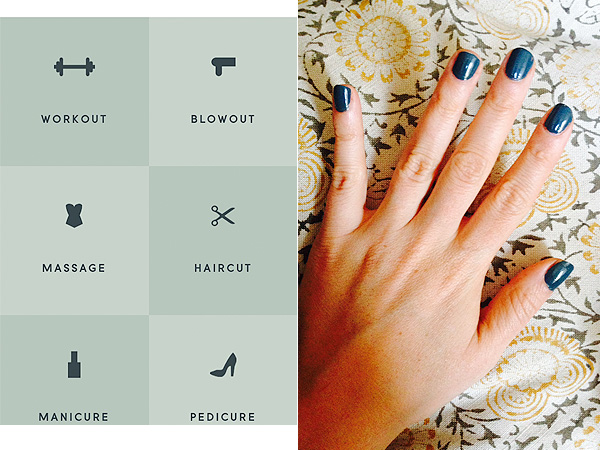 Courtesy Catherine Kast
The App: Beautified, available in N.Y.C.
Who Tried It: Catherine Kast, Writer-Reporter
Usability Rating (from 1-10): 8. Very attractive design, tough to navigate booking page (top scrolling bar of services is hard to read). You're able to tip on your credit card via the app!
The Experience:: I was initially extremely excited to try this app because well, it's beautiful. The interface is bright white and clean, and impeccably organized and easy to navigate. Plus, there are adorable little icons representing each of the many services you can book through the app: blowouts, facials, manicures, brow wax, makeup applications, massages and workouts. The app exists only in N.Y.C.
I decided to book a post-work mani/pedi. From my office in Rockefeller Center, I accessed the app. I thought it was broken because there were no nail salons popping up in my immediate vicinity, but it wasn't. There just simply were no options in Midtown Manhattan. There were several in Tribeca, and several on the Upper East Side, not a journey I was willing to make.The nearest and most convenient (near an accessible subway line) were a number of salons in SoHo. I picked the only one with an appointment available, a place called the SoHo Sanctuary and jetted downtown. The service was awesome (clean, an amazingly quiet and peaceful space, environmentally conscious nail polish choices). The price was a little prohibitive ($30 for a manicure), but worth it for the amount of care I received and how much time I was able to spend in their lovely salon. The best part was that I didn't have to dig in my purse to get my wallet out when it came time to tip, leaving me much more relaxed (I inevitably would've also dug out my phone and started checking work emails, thereby washing my calm down the drain).
The Verdict: 7/10. Though the lack of salons in my area was frustrating, they have recently added a few options to the midtown area. I also tried the app in my neighborhood in Brooklyn and got zero nail salon options. What Beautified did do was introduce me to a fabulous salon that I otherwise would've never set foot in. As the co-founder Hannah Bronfman said earlier this year, "The salons we choose are a place an insider has been, or an editor has been or an influencer has been." Vetted locations come with a price, which can vary (and can be expensive). Manicures hover around $30, massages at $85, and haircuts start at $65 (which is actually not bad for New York!). And though I appreciate careful curation, I hope that the Beautified team can find some influencers to find some fab spots in BK. I'm available for scouting, Hannah!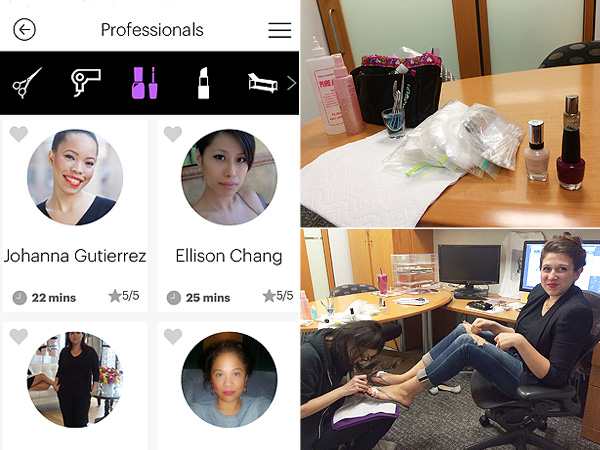 Courtesy Alex Apatoff
The App: Priv, available in N.Y.C. and L.A.
Who Tried It:Alex Apatoff, Senior Style Editor
Usability Rating (from 1-10): 9. Cute design with standardized prices. It took me a minute to figure out that I didn't have to call a stylist immediately, but once I navigated the interface, it couldn't have been easier.
The Experience:: Right off the bat, Priv sets itself apart because it's more than just beauty — it sends its team of stylists (hair, makeup, nails) or wellness professionals (fitness, massage) to anywhere you are, more or less on demand. You just tap what service you want, pull up a professional and essentially Uber them right to your door; you can either schedule a time or choose the closest stylist. Prices are remarkably reasonable if you take into account that A) it's in N.Y.C. and B) that they come to you. A mani/pedi with Hin Li Chan was $70 (tax and tip included!), which is less than many high-end salons charge here. Hin Li rolled up with her suitcase right on time and got to work. She was friendly, professional and very skilled and thorough. If it weren't for people walking by and staring, horrified, into my office, I could have been anywhere. The pedicure didn't last quite as long as one with the full service spa tub experience, and of course the color selection was necessarily limited, but I couldn't beat the convenience (or the price, considering).
The Verdict: 9/10. The only drawbacks to the experience were the color choices (but if you're getting this done at home, chances are you'll already have your faves there) and the gawkers walking by my window. But for those moments when you realize at the last minute your nails are a nightmare, I can't imagine a more seamless experience. From the setup to the cleanup to the fact that the payment was all done in-app, it was exactly like Uber, but for looking cute.