The Kim Kardashian 'Ugly Cry' T-Shirt Is a Thing: Would You Wear It?
If you've watched a few episodes of Keeping Up With the Kardashians, you've probably seen Kim Kardashian get emotional at least once. There have been memes and gifs made portraying her truly memorable crying style and even the star herself has poked fun at it. Now there's a T-shirt commemorating her "Cry face."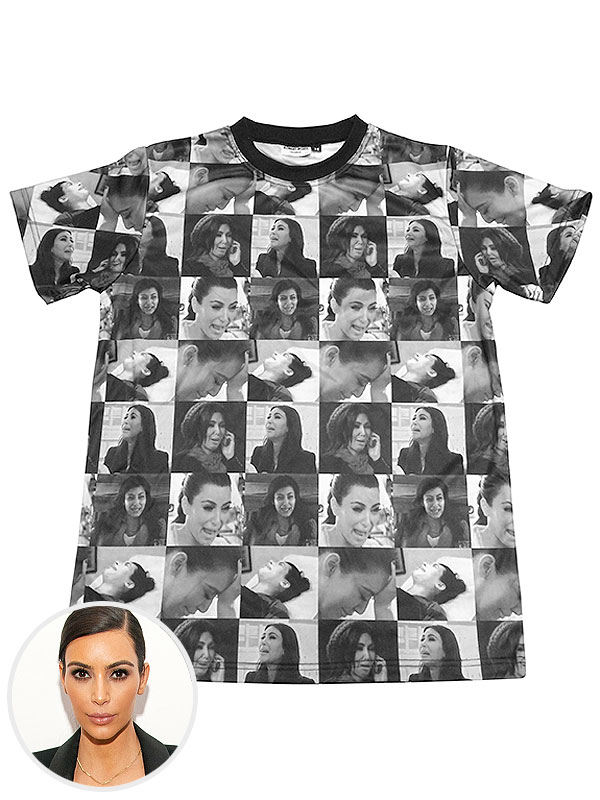 Courtesy Robert Boris; Inset:Araya Diaz/Wireimage
The unisex tee, covered in black-and-white photos of The Many Faces of Sad Kim, is now on sale for $55 at RobertBoris.com. And it was first brought to our attention by Kim's eldest stepbrother, Burt Jenner, who is rarely featured on the family reality show (and possibly because it sounds like he may actually wear this tee). "My new favorite shirt…" he captioned the below photo on Instagram.
This isn't the first time one of her stepbrothers has poked fun at her. You may recall Brandon Jenner's spoof video mocking his stepsister's Little Mermaid hair flip while in a pool in Thailand. Brandon his own spin on the sexy move, to much amusement.
We're not sure whether this tee will get Kim giggling or elicit another "cry face," but we don't think it's too much to hope that she meta James Franco move and wears the shirt herself. What do you think of the shirt? Would you wear it? Share your thoughts below!
–Brittany Talarico