Leonardo DiCaprio Joins the Pantheon of Hot Guys in Man Buns: Let's Revisit the Hairstyle's Greatest Moments, Shall We?
Leonardo DiCaprio has been unabashedly rocking the man bun this week (that's him in the center, below) as he yachts around the Mediterranean with his posse. It seems like tanning and relaxation are on the top of the actor's list, and grooming, well, it's somewhere in the bottom third. So in honor of his foray into ponytail territory, we're looking back at the guys with hot buns (sorry) who paved the way for DiCaprio's major mane moment. Clockwise from top left …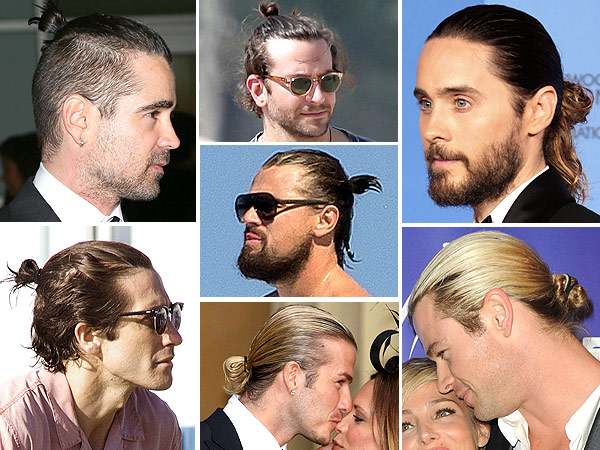 Getty; AKM-GSI; WireImage; Splash News Online; Getty; FameFlynet; Pacific Coast News
1. Colin Farrell : A man bun of distinction: Farrell wore his mohawk tied back on the red carpet last year, showing off his freshly shaved sides.
2. Bradley Cooper: Before he buzzed off his hair for his latest film American Sniper, Cooper ventured into top knot territory and kind of reminded us of a hot yoga instructor.
3. Jared Leto: The star's hair hype hit an all-time high this award season — ladies everywhere coveted his thick, luxurious locks which look like they should be emerging from a waterfall in a Pantene commercial. Basically, he's mastered the #iwokeuplikethis man bun on and off the red carpet.
RELATED PHOTOS: Star hairstyles we can't wait to steal

4. Chris Hemsworth: He does the perfect, tight red carpet man bun, so we're curious what other hair skills the actor has. Maybe he's mastered French braiding à la Chris Pratt? (If so, catch us while we swoon.)
5. David Beckham: Tress trendsetter — and possibly the father of the A-list man bun — Beckham wore his hair this way for all of 2003. And Posh, surprisingly, approved.
6. Jake Gyllenhaal: He's been bald and he's rocked the bun. The hair chameleon does it all.
7. Leonardo DiCaprio : Yachts + Supermodels + Hair ties = Leo's ideal summer vacay.
Who has the best bro bun in Hollywood? Do you love this guy style or do you like your hot male celebrities more clean cut? Share your thoughts below.
–Brittany Talarico