CFDA Awards 2014 Recap: Rihanna's Sappy Speech (and Texts with Anna Wintour!), Olivia Wilde's Recycled Dress and More!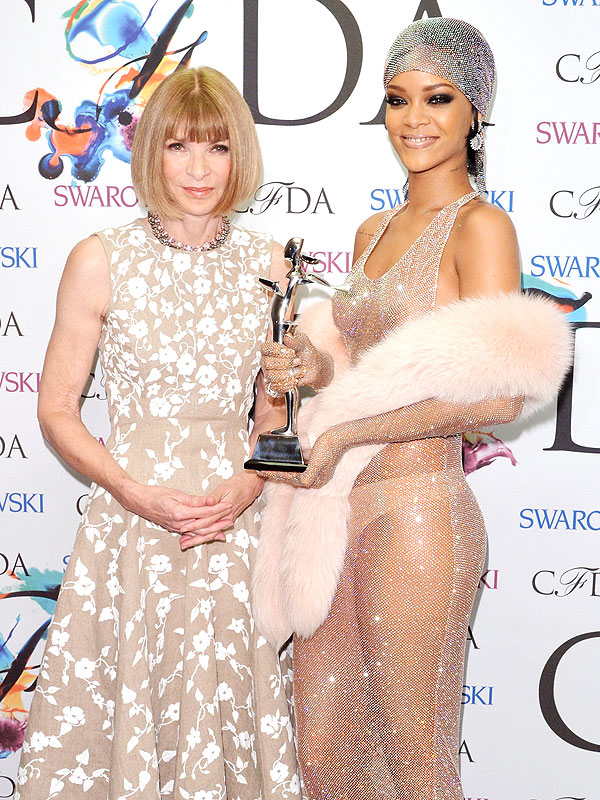 Andrew H. Walker/WireImage
The Council of Fashion Designers of America Awards always promises high-fashion gowns, an Olsen red carpet cameo, and some emotional speeches from designers and celebrities alike. This year was no different. Catch a highlight reel of the five best moments for the 2014 CFDAs.
THE VIDEOS TO WATCH: Rihanna made serious style waves before she even hit the stage to accept her Fashion Icon award when she appeared in a completely sheer, custom Adam Selman dress covered in more than 216,000 Swarovski crystals. She paired the revealing look with a pink fur stole (strategically placed, of course) and matching head scarf.
Vogue editor Anna Wintour presented RiRi with the prestigious honor, and the superstar's speech (catch it above) was heartfelt. "I enjoy the most that you can tell so much about who someone is just by their style, the way they put fashion together. I think fashion has been an outlet for me to express myself, to speak out, say who I am and to be very loud about it at times. Fashion should never be frustrating."
Since Wintour tends to be more conservative in her style and Rih is so out there, inquiring minds wanted to know how the two got paired up for the award presentation. Fortunately, Vogue.com took the time to imagine some text conversations between the unlikely duo. (Watch the funny video above!)
THE PERSON TO FOLLOW: If you're not following Patrick Janelle on Instagram yet, you probably should add to your roster. Why? He won the CFDA's first ever Fashion Instagrammer of the Year Award. The graphic designer by trade is the founder of Spring Street Social Society, a group that "brings people together in unexpected spaces. our gatherings take the form of cabaret variety shows, coursed dinners, movie nights, or anything else we dream up." And through his N.Y.C. connections he's branded himself through a style-centric Instagram account (@AGuyNamedPatrick) with over 130k followers. And Monday night he took over the CFDA's Instagram feed.
RELATED PHOTOS: See all the head-turning style moments at the CFDA Awards
THE SURPRISING STYLE MOVE: Rihanna's sheer dress wasn't the only buzzy fashion moment of the night. Olivia Wilde made a big statement. (And we're not just talking about how major her post baby-body looks.) The new mom went vintage in a one-shoulder fringed Mollie Parnis dress, worn 30 years earlier by Anjelica Huston (on the arm of Jack Nicholson!) at the Cannes Film Festival in 1974.
THE OLSEN TAKEOVER: Mary-Kate and Ashley Olsen trumped Proenza Schouler and Alexander Wang for the honor of Accessories Designer of the Year. The fashion powerhouse behind The Row also nabbed the Womenswear Designers of the year Award in 2012. Will they reach a three-peat next year? TBD.
THE OMG COLLABORATION: Alexander Wang certainly shook things up with his choice of date at the CFDAs. He was accompanied by a cape-wearing Mango (!) (who some may remember as the the late-'90s SNL character played by Chris Kattan). And by the looks of it, Mango will be fronting T by Alexander Wang's fall/winter 2014 campaign. Stay tuned for a big reveal today on AlexanderWang.com.

What was your favorite moment from the CFDA Awards? Who was your best dressed? Sound off below!

–Brittany Talarico