Hilary Duff Chops Her Hair: See the First Photos!
Hilary Duff hasn't really changed her hair up in a while. Sure, she went blonder earlier this year, and has done the whole ombré thing, but she never goes wild when it comes to her cut — until now. Any guesses on what she got, based on the photo below? (Click to see the results!)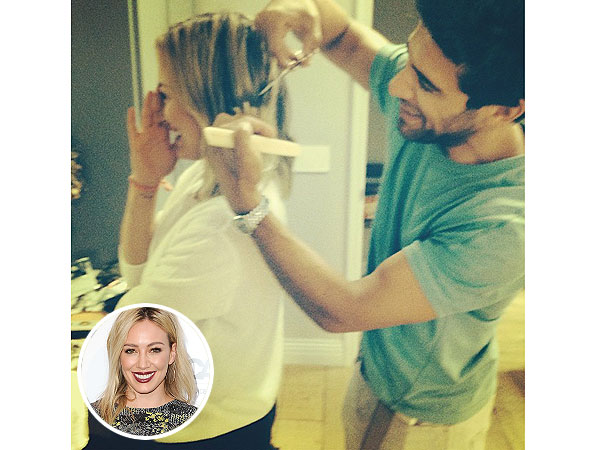 Courtesy Hilary Duff, Inset:Allen Berezovsky/Wireimage
Duff shared the above photo on Instagram Thursday, with the caption, "Morning chop…. W/ my favorite @marcusrfrancis." Since the photo was mid-cut (and the shears were right at the crown of her head), we couldn't wait to see how short she went. We were thinking she could be on her way to pixie territory, but Duff revealed the results of her cut just minutes ago, and the final result is: a choppy long bob. (Did you win your office pool?)
RELATED PHOTOS: New cut! New color! Weigh in on the latest celebrity hair changes
We recently caught up with Duff about her style, and she explained that she loves to experiment with her fashion and beauty looks depending on her day. "It's give and take — what you're wearing and trying to balance it with your look and your makeup," she told PEOPLE. "I love that you can just take on a different role. You can just put something on and all of a sudden you've morphed into something different. It brings out a tone in your personality and you get to play with that."
What do you think of Duff's cut? Do you like her better with long hair? Share your thoughts below.

See Hilary Duff's changing looks!

–Brittany Talarico