Jamie Lynn Spears's Wedding Dress Is Long, White and Pretty - and So Is Her Mom's!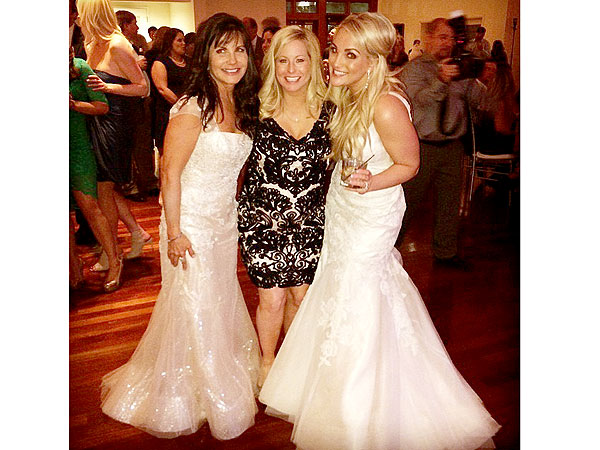 Courtesy Ramsey Sims
Britney Spears's wedding looks have run the gamut from ripped jeans to minidresses to ballgowns, so we couldn't wait to see what little sis Jamie Lynn Spears wore to her Friday nuptials in New Orleans. And while we weren't surprised to see her in something long, pretty and white, we were a little surprised to see mom Lynne in a dress not so different from the 22-year-old bride's.

Baton Rouge, La.-based I Do Bridal Couture posted the above photo to their Instagram Sunday, depicting the bride and mother of the bride with Ramsey Sims, the owner of I Do. The caption on the photo read: "It's official ya'll! @jamielynnspears is now Mrs. James Watson! We are so happy to have been part of this celebration of love. The beautiful bride, Mrs. Lynne and sweet Maddie all wore custom gowns by @liancarlodesign. More pics to come! Xo." (The dress designer wasn't a surprise — I Do had teased it back in January.)
RELATED: Would you wear a white dress to a wedding? How about a crop top? Vote in our polls now!
Leaked photos showed Spears in the V-neck mermaid gown design with a long lace cathedral-length veil and a large bouquet of pink-and-white roses. In addition to mom Lynne and daughter Maddie's Liancarlo dresses, older sister Britney wore a silver V-neck beaded gown (and her new red hair) while all the men (from Britney's two sons to groom Jamie Watson) wore suits with blush ties and pocket squares.
PHOTOS: Have you submitted a pic to our Real Beauty contest yet?
What do you think of Jamie Lynn's dress? What do you think of her mom in a matching look? Tell us below!
–Alex Apatoff