Britney Spears Dyes Her Hair Red! Check Out Her Month of Hair Changes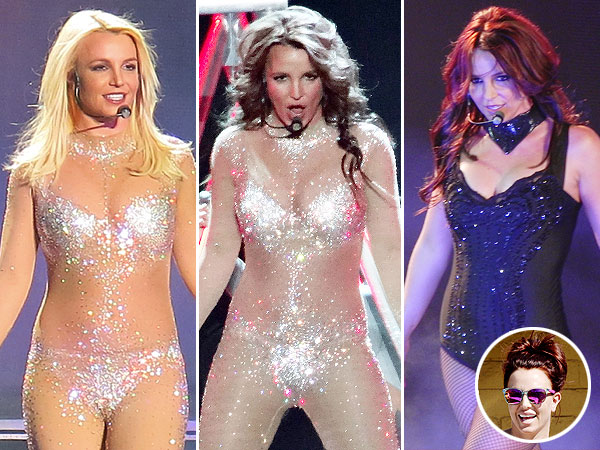 Splash News Online; Justin Paludipan/Splash News O
Britney Spears has been keeping her colorist very busy this month. The singer changed up her hair hue for the third time in less than two weeks, debuting a new redheaded look at her Las Vegas show on Wednesday.
At first editors were convinced Spears was sporting a wig for her stage performance, but after some more intensive photo research it looks like the star went full-on red! In the inset photo above, you can see the singer's fresh dye job on her messy bun (which we'd recognize as Brit's hair anywhere). Spears started her Vegas residency as a platinum blonde, before going brunette less than two weeks ago while promoting her new fragrance. And now she's spiced up the shade with a deeper, Jessica Rabbit-esque red.
RELATED PHOTOS: Vote on more star hair transformations
What's next? Hot pink highlights like her X Factor pal Demi Lovato? Rainbow? A platinum pixie? She's really keeping us on our toes. For now, vote in our poll below and share your thoughts in the comments!
https://twitter.com/britneyspears/status/434584165971795968
–Brittany Talarico