Stephanie Seymour Is the New Face of Estée Lauder: See the First Photo!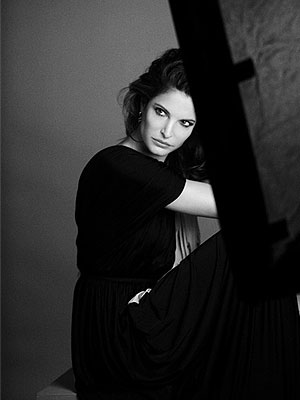 Courtesy Estée Lauder
Stephanie Seymour has been modeling for nearly 30 years, and her career just keeps getting bigger. The 45-year-old bombshell recently signed to be the face of Estée Lauder. (We told you '90s supermodels were on a roll right now!)
"I am honored to be part of the Estée Lauder family," Seymour said in a statement. "As a young girl my mother had a dream for me and that was to be an Estée Lauder model! So this is truly a dream fulfilled."
When we first saw this photo on the Estée Lauder Twitter account, we thought it might be an early Throwback Thursday post — she hasn't changed a bit since her early days of modeling. She's giving major model attitude in the behind-the-scenes shot, which shows off her radiant skin and fit figure.
RELATED: '90s Supermodels Are Hotter Than Ever — Here's the Photo Proof
"Stephanie is the ultimate modern beauty icon," said Jane Hertzmark Hudis, Estée Lauder's global brand president. "Beautiful and accomplished in fashion, entertainment and in life, I am thrilled to welcome her to Estée Lauder."
Seymour joins current brand ambassadors Joan Smalls and Hilary Rhoda as a face of the brand (we'd love to be there when they all swap supermodel stories!). What do you think of Seymour's new gig?
–Brittany Talarico