Kim Kardashian Is So Committed to Showing You Her Abs, She's Now Cutting Up Her Designer Dresses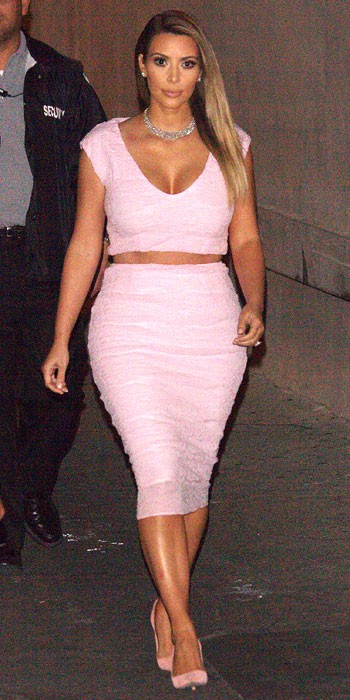 JMA/Star Max/Getty
Did you know that Kim Kardashian has lost the baby weight? If not, you may be living under a rock, as her every movement on social media (as well as every outfit she selects) seems designed to drive that point home via a series of midriff-exposing ensembles.
But even someone whose closet looks like this can apparently run into a shortage of ab-baring crop tops, so for her appearance on Jimmy Kimmel Live, she made her own, by taking scissors to a pink Dior dress.
RELATED PHOTOS: Kim isn't the only star wearing a crop top this week!
"Tonight's look #AllPinkEverything #DiorDressICutInto2Pieces #ManoloHeels #LorraineSchwartzJewels" the star hashtagged enthusiastically on her Instagram. And the pencil skirt/crop top combo wasn't the only déja vu moment she was sporting — she was also in her second extremely fancy Lorraine Schwartz diamond collar necklace of the week.
So do we think this was just the star getting crafty in her spare time? Was it a creative reaction to another last-minute dress disaster? Is she letting her fashion designer fiancé Kanye West act as an in-house tailor? And more importantly, how are we feeling about this? Tell us below.
–Alex Apatoff