Lupita Nyong'o's SAG Awards Nails: Get an Exclusive Look!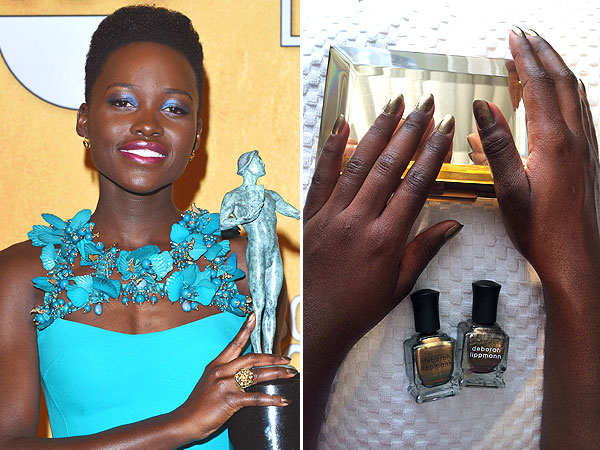 Lester Cohen/WireImage, Courtesy Deborah Lippmann
It's good to be part of Lupita Nyong'o's glam squad these days. Not only is she the buzziest style star on the red carpet, but she loves to name-check all the people who helped her look like — well, see the photo above. So when she told Giuliana Rancic that her nails were courtesy of Deborah Lippmann, we had a feeling we were going to be copying that nail look first thing tomorrow morning. And in this exclusive photo sent to us by Lippmann, we found out our intuition was spot-on.

The rich gold metallic hue is courtesy of a combination of "Swagga Like Us" and "Chain Reaction," but just like finding the right accessory is a journey for stars and their stylists, so is landing on the perfect nail shade for the big night. (After all, Nyong'o's nails were front and center as soon as she won that SAG award!)
RELATED PHOTOS: See all the SAG Awards red carpet style that we loved!
"Lupita's nails were a very big decision for her tonight. We went through a few different rounds of colors before settling on this custom combination,'" Lippmann tells PEOPLE. "The color really stood out from her beautiful teal [Gucci] dress and added an element of style, and most importantly, it was edgy. A real red carpet nail look, there was glitter and chrome — perfect for a big event night like the SAG Awards."
To achieve the look, Lippmann started and ended with her Gel Lab top coat, which extends polish life twice as long. Then she painted on the mirrored chrome "Swagga Like Us," followed by a coat of "Chain Reaction," for the perfect blend of hues that complemented her super-shiny golden clutch.
And of course, her metallic tips weren't the only part of Nyong'o's beauty look we were obsessing over. Yes, we're referring to her gorgeous eyeshadow. Makeup artist Nick Barose shared that he "didn't want it to be really matchy-matchy" so he combined three shades — the blue color from Chanel Quadra Eyeshadow in Fascination, Chanel Ombre Essentielle Soft Touch Eyeshadow in Amethyst and a yellow liner, Chanel Limited Edition Le Crayon Khol Intense Eye Pencil in Peche Cuivré.
Do you love her nail look? Would you give it a shot? And what about her eye makeup? Tell us below!
–Alex Apatoff