Does Amy Adams's Critics' Choice Awards Gown Look Familiar?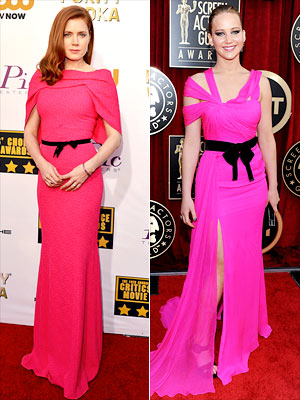 Lester Cohen/WireImage; Dimitrios Kambouris/WireIm

If you tuned in to the Critics' Choice Awards Thursday night — or even if you just caught up on the highlights this morning — you probably had a strong reaction to Amy Adams's hot pink gown. At first, you might have gone "Wow, that color is awesome. Who says redheads can't wear pink?" And then you might had said, "Wait, why am I getting a strong sense of déja vu?"
RELATED PHOTOS: All the drop-dead gorgeous looks from the Critics' Choice red carpet!
The first feeling you can attribute to Roland Mouret, who designed Adams's off-the-shoulder stunner. And the second you can attribute to Adams's co-star in American Hustle, Jennifer Lawrence, who wore a very similar look (by Oscar de la Renta) to the 2011 SAG awards. In fact, we were just reminiscing about how much we loved Lawrence's look here, which is why it was top-of-mind.
Obviously it's not a direct match, but something about the vibrant hue, the asymmetrical draped top, the black ribbon at the waist — and oh yeah, the stunning stars wearing them — made us stop and say "Wow." We only wish we could hear what their arch-rival characters in American Hustle would have to say about this moment.
What do you think of the two looks? Let us know below!
–Alex Apatoff