Girls at the Golden Globes: Whose Look Are You Loving the Most?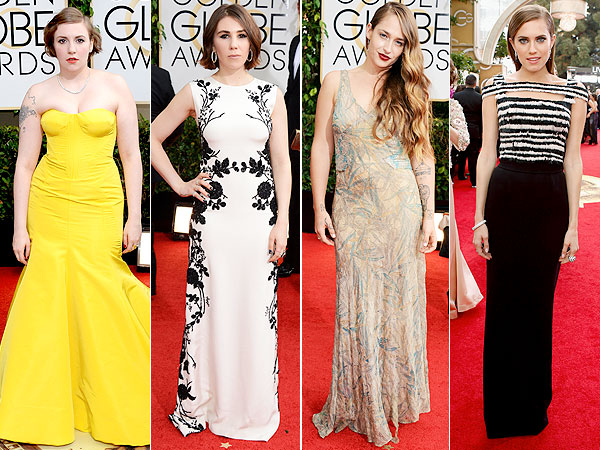 Kevork Djansezian/NBC/Getty(2); Jordan Strauss/In
They're not in Brooklyn anymore. The Girls cast went totally glam at the Golden Globes Sunday night and definitely pulled a few surprises. (And if you flipped over to HBO to watch the season three premiere, please, no spoilers below! We DVRed it!)
After going for a bold print at the Emmys, Dunham followed up with a bold color at the Globes by way of a citron Zac Posen gown with a corseted bodice. "Zac told me to make a 'S' with my body," the nominee said on the red carpet. "I'm just doing what people told me to do."
And if she wasn't dressed in couture, she'd probably be joining in on the social media party. "If I wasn't celebrating I would be in my pajamas, eating junk food and refreshing my Twitter feed. I actually ate a thick patty of hamburger meat before I came." (She really just gets us.)
RELATED: See the best gowns at the Golden Globes
Zosia Mamet paired her new bob with a black-and-white Reem Acra gown featuring floral beading. Jemima Kirke stayed true to her boho style in a nude design featuring a pale jungle print. And Allison Williams pulled a total style 180 °(after prim classic looks like this and this) in an edgy Alexander McQueen column gown with a black-and-white striped top and unique neckline.
Whose look do you like the best? Are you a fan of Lena Dunham's bright color choice? Share your thoughts below!
–Brittany Talarico