Avril Lavigne Gets a Makeunder: See Her Without Her Signature Eyeliner!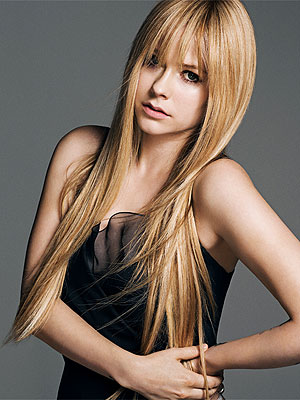 Courtesy Allure
Avril Lavigne's dark, heavy black eyeliner is so much a part of the star's public "look" that she wore it for her wedding, engagement photo and album cover. And lest you think it's only for fancy occasions, Lavigne tells Allure she nearly never takes it off. "I wear the black eyeliner — M.A.C. Smolder — pretty much every day," she tells the magazine. "I do it when I'm just at home."
RELATED VIDEO: Five ways to make your eyes look bigger and brighter!
So the beauty editors at Allure took it upon themselves to give the star a makeunder for their January issue. "Today we really want to switch it up," she says in the video, above. "So I didn't have very much makeup on, and just had a modern dress [and] bangs." The results are elegant, showing off her luminous skin and pretty lips, in what artistic director Paul Cavaco calls a "clean" makeup look.

"I like the idea of trying new things, of playing around — as long as you can go back to what you're comfortable in," Lavigne tells the magazine, while also confessing that she relies on her long hair as a "security net." Check out the video below for the finished makeunder, and see another video that explains how Lavigne gets her eyeliner just right here.
What do you think of Lavigne's makeunder? Should she experiment with new eyeliner looks more often?

–Alex Apatoff