Kim Kardashian Finds (Yet Another) Unique Way to Show Off Her Cleavage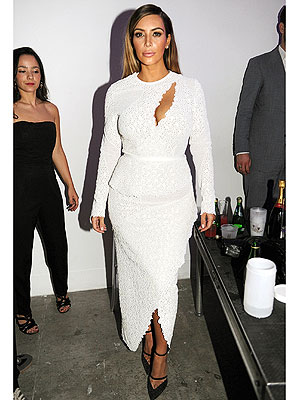 Seth Browarnik/Startraks
Her fiancé may be the "artistic genius," but Kim Kardashian seems to be a bit of a genius when it comes to finding new ways to show off her famous cleavage. The reality star did it again during Surface magazine's DesignDialogues event in Miami on Wednesday, wearing one very unique dress (yes, we can see Kanye West high-fiving himself in the mirror over this one).
After a string of daring illusion necklines (see here and here) and the daring keyhole cutout dress she wore for the Kardashian Christmas card, Kim changed it up a bit in a white lace Proenza Schouler design with an asymmetrical cutout that showed off her décolletage.
RELATED PHOTOS: See the Kardashian Christmas cards throughout the years
She's also sticking to her love for all-white looks, probably sending us a message that she's ready for that trek down the aisle. (See some dress suggestions here!)
What do you think of the star's wardrobe? Should she tone it down, or should she keep showing off her assets?
RELATED VIDEO: Check out Kim's changing looks!

–Brittany Talarico