Salma Hayek Sparkles Her Way to the Top of the Most Loved Looks List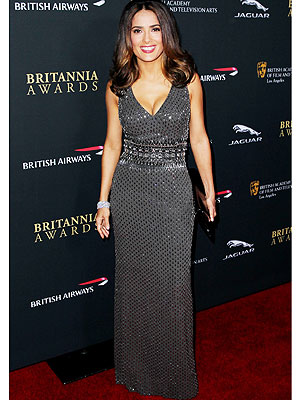 Matt Sayles/Invision/AP
It was a tight race this week, coming down to three red carpet veterans: Jessica Alba, Elizabeth Banks and Salma Hayek. And while our money was on Banks's dazzling Elie Saab sweetheart gown (stunning!) or Alba's hot-pink Reem Acra (so fun!), Hayek bested both of the stars and earned the No. 1 spot.
The actress did so in a plunging gray gown in a relatively simple silhouette (curve-hugging, center-slit up the back). But simple certainly doesn't describe the embellishments: Her dress was covered in dazzling beading and featured a blinged-out waist-cincher complete with more beading and crystals.
RELATED PHOTOS: See who else made the Top 10 Most Loved Looks List this week!
Salma completed her ensemble for the BAFTA Los Angeles Britannia Awards in Beverly Hills with a bouncy blowout and major diamond bracelet.
The carat-tastic look earned a 95% approval rating from voters.
So, what do you think of Salma Hayek's gray stunner? Does she deserve the title or should it have gone to Alba or Banks this week?
Check out previous Best Dressed winners:
Kate Beckinsale Gives Us Wardrobe and Hair Envy
Jessica Alba Beats Out a Royal for the Most Loved Look Title
Sandra Bullock Is Perfection in a Sexy LBD