Scarlett Johansson's Engagement Ring: A Closer Look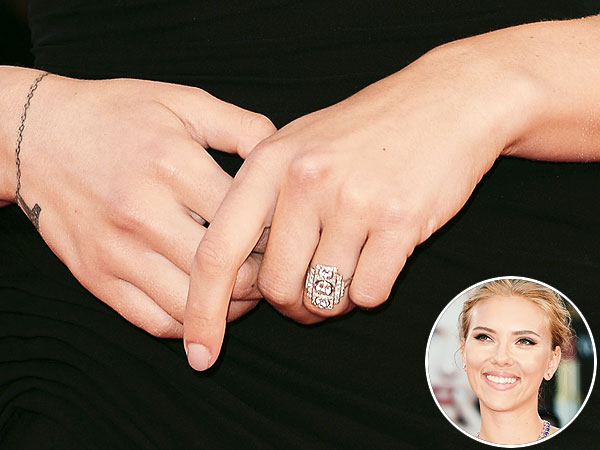 Ian Gavan/Getty(2)
Yes, Scarlett Johansson is engaged! And yes, her ring is something to talk about!
With that figure-flaunting Versace gown and major Bulgari necklace she wore to the Under the Skin premiere Tuesday in Venice, you might have been too distracted to notice the new piece of bling sitting pretty on the actress's left hand, courtesy of her fiancé, journalist Romain Dauriac. So we got a closer look for you.
The Art Deco sparkler features what looks to be three round diamonds surrounded by a vintage, rectangular setting … with more diamonds. And we love how unique it is.
RELATED: See more amazing star engagement and wedding rings here!
The actress is the latest in a string of celebs — from Kelly Osbourne to Behati Prinsloo — who've been bucking convention and sporting unique engagement rings.
"They're engaged and very happy," a source says of the couple, adding that Dauriac proposed last month. (We don't know how you kept that ring concealed for so long, ScarJo! #willpower)
Tell us: Do you like Johansson's new bling?
–Brittany Talarico