Kate Bosworth Gets Two Wedding Rings (Can You Hear Us Sighing From Our Desks?)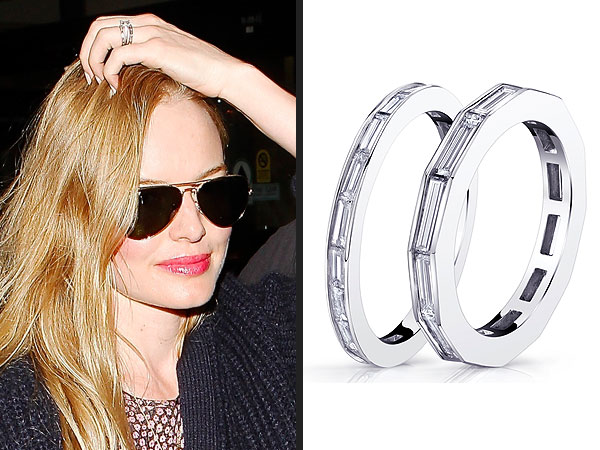 Splash News Online; Courtesy Ocappi
If her magical Oscar de la Renta gown wasn't proof enough that Kate Bosworth was the luckiest bride on the planet, enter her two — count 'em, two(!) — wedding rings.
The actress's new husband Michael Polish presented her with dos bands, both of which complement her vintage 1920s engagement ring, at their Montana nuptials on Sunday.
And we got all the scoop on her new bling straight from the source — Ocappi, the jewelry retailer responsible for crafting the handmade, platinum-set rings just for Kate's big day.
RELATED: See more amazing star engagement and wedding rings here!
"Collaborating with Kate was so wonderful, because she has such a great style sense, that it made the creative process so vivid," says Ocappi Creative Director Haki Abehsera. "She expressed how much she loved her engagement ring and how she wanted something to accompany it without taking too much attention away from it."
Abehsera explains that the first band, which is just over a half-carat and features 18 brilliant horizontally-set baguette diamonds, was designed to go seamlessly with Bosworth's art deco engagement ring.
And the second band, which boasts over a carat, has more of a personal meaning for the couple. "Michael mentioned that maybe we should do something with 12 stones representing each month of the year," Abehsera adds. "That's where we decided not to be subtle, and how ring number two was created."
We have a feeling that this two-ring-thing may be the start of a new trend in Hollywood. Note to our boyfriends: We'd totally be on board with that.
Now tell us: What do you think of Bosworth's double-band action?

–Brittany Talarico