Dakota Johnson: A Style Introduction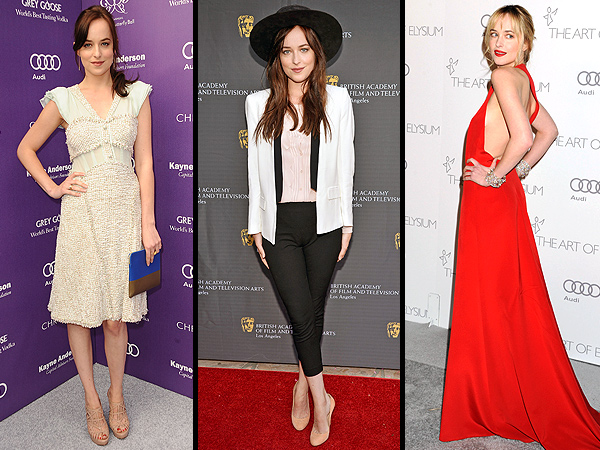 Courtesy Getty
We've been waiting months to see who will be cast to play Anastasia Steele in the highly-anticipated film adaptation of EL James' Fifty Shades of Grey. And now that 23-year-old Dakota Johnson has been officially, uh, tied down for the role, we obviously had to do a style analysis on the actress, as she's sure to become one of the most well-documented women in Hollywood.
So here we go! Even though the star, who is most known for both her leading role on the canceled Fox TV show Ben and Kate, as well as her smaller parts in 21 Jump Street and The Five-Year Engagement, will no doubt be showcasing some beyond racy outfits onscreen as Ms. Steele, we discovered that her own personal sense of style is actually somewhat tame.

For starters, Johnson prefers covering up to stripping down, as evidenced by the cleavage-free soft and romantic cream-colored bouclé dress in the top left box that she wore to the Chrysalis Butterfly Ball at the beginning of June.
RELATED PHOTOS: See more daring star style in Last Night's Look!
And speaking of covering up, it appears that the star also prefers suiting up–check out her menswear-inspired white tuxedo jacket, cropped black pants, and ginormous hat ensemble that she rocked at the BAFTA LA Garden Party (see middle pic).
Finally, while the star definitely rocks the crisp look well, she isn't all covered up all the time–she's had her more revealing moments, too. Documented evidence: the red/backless/hot Romona Keveza gown that she wore to the Art of Elysium Heaven Gala, shown in the picture in the top right box.
In sum, while we have no doubt that we will see Johnson all sorts of stripped down in the 50 Shades film itself, we remain a bit mystified re: what we'll see her rocking IRL. Will she suit up most often? Glam it up? A little bit of both? We'll just have to wait and see how it all unfolds.

Tell us: How would you describe Dakota Johnson's personal style?
–Storm Heitman