It's Officially Time to Tackle This New Football Nail Art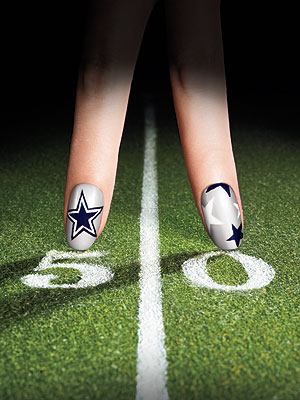 Courtesy CoverGirl
Calling all football fans! There is now an even better way to celebrate your fandom than promoting your team on social media (and, fine, promoting your wing-eating skills at the bar on game day). What's that, you ask? Promoting your team on…your nails.
Enter "fanicures." Yes, that's right, fanicures. They're exactly as they sound–fan manicures–and they're the result of a partnership between the NFL and CoverGirl. The two brands told PEOPLE exclusively that they've teamed up to create fanicure "bundles," which are basically packs of different colors of polish so that you can rep your team's colors on your nails.
RELATED PHOTOS: Beauty bargains you're guaranteed to love!
There are 32 different kinds of fanicure bundles–one for each NFL team in the league. Each bundle contains two to three different shades of CoverGirl Outlast Stay Brilliant Nail Gloss bundles that match the colors of the team they represent. So for instance, the team colors of the New England Patriots are navy, silver, red, and white, so the Pats bundle has three shades: snow storm, ever reddy, and sapphire flare. The bundles will be on sale starting this Thursday, September 5th, at CoverGirl.com/NFL. The nail glosses are $5.49 per bottle; bundle prices vary since they don't all have the same number of bottles.
Tell us: Will you rep your favorite NFL team on your nails?

–Annie Daly