What We're Buying: Our First Fall Purchases!
Technically, it is still in the 80s this week, meaning technically, we shouldn't really be thinking about fall clothes yet. But come on! Labor Day just happened, and we got so psyched about the mere aspect of fall attire that we decided to forget the minor detail that it's still warm out and make some chillier-weather investments. Check out what we scored this weekend…then click through to buy the items yourself.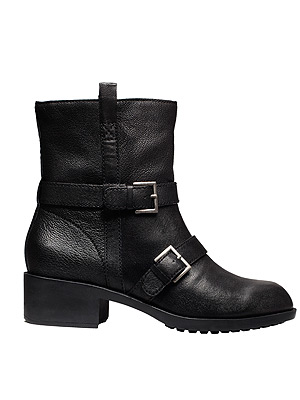 Courtesy Cole Haan
Andrea Lavinthal, Style Director: Some families bond by playing a game, cooking a meal, or watching a movie together. The Lavinthals' version of spending meaningful time together includes driving to the nearest Marshalls and competing over who can find the best deal. And my Labor Day weekend score–a pair of black Cole Haan moto boots–is now the buy to beat. After wandering around the store for an hour, I was almost ready to give up and let my mom and her new bathmat take first prize (so lame), but then I spotted these amazing boots. Not only did they have them in my size, but they cost less than half the original price ($99 compared to $240). I can't wait to introduce them to my fall wardrobe. I think they'll really hit it off with my skinny jeans.
Insider tip: The next time you find something you love at Marshalls, upload a pic on Twitter or Instagram and tag it #FabFound for a chance to win a $50 gift card.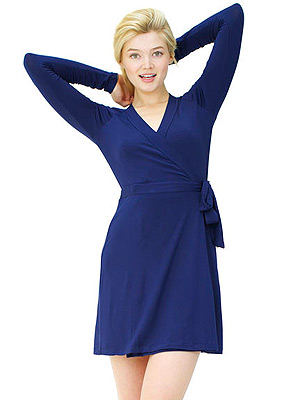 Courtesy Joyus
Zoë Ruderman, Senior Style Editor: I'm a big fan of the desert island game. As in, if you were on a desert island and could have only one kind of food (or one movie, one book, one beauty product, etc.), what would it be? I can never decide on the food (ah, the great ice cream vs. pasta debate), but if the item in question were a work outfit, I know how I'd answer: this Tart "Marie" wrap dress, which I just bought while on a trip in San Francisco, on sale for $48.50, down from 136 bucks. (It's still available at that price, so move fast!)
Wrap dresses like this one are the reason the phrase "universally flattering" was invented. And the material is soft and cozy to boot. Like, really soft and cozy. It's not quite as comfortable as a sweatsuit, but it's pretty damn close, and plus, it won't get you called down to HR if you wear it to a meeting. I can't wait to pair it with gold jewelry and knee-high camel boots or ankle moto booties. (Andrea, can we time-share yours?)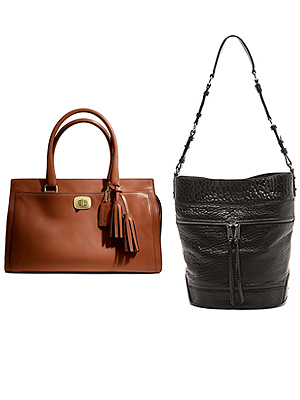 Courtesy Coach/Rebecca Minkoff
Brittany Talarico, Associate Editor: I'm normally not name-droppy when it comes to new bag purchases (well, fine, maybe a little bit), but these two bad boys are so worth bragging about. Since it was raining on Labor Day, my dreams of going to the beach were squashed, so I decided to hit up the sales at Bloomingdale's in search of a new fall purse, instead. And it was the biggest. rush. ever.
First, I came across this classic Coach top-handle creation. I love the brand's re-invention of its old leather styles, and the tassels feel very on-trend for fall. (Plus, I feel like Kate Middleton when I hold it.) Next, I spotted this black, embossed Rebecca Minkoff carryall, that's more my everyday style and easily fits a pair of shoes (which is really important for commuting on the subway). I was so torn between the two…until I realized that they were both 60% off of the original price. So I got both, for less than the price of one–which is a good investment in my book.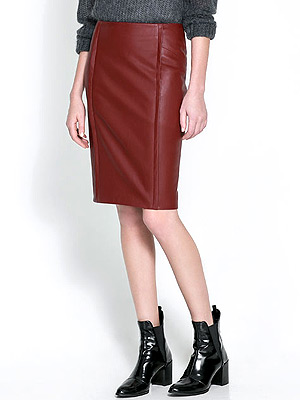 Courtesy Zara
Whitney Little, Associate Producer: Leather skirts are basically like tattoos for me–once I experienced life with one, I needed to add to my collection ASAP. Enter this maroon pencil skirt from Zara.
My favorite thing about this piece is the versatility: I'll certainly be wearing it around the office, but it's also easy to dress up for a date night. Plus, I'm a Texas A&M fan, so any article of clothing that comes in my alma mater's color has a permanent spot in my closet, especially during football season.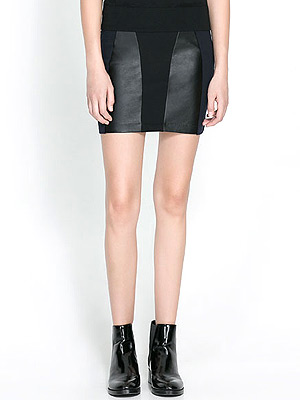 Courtesy Zara
Annie Daly, News Editor: I think the Universe is trying to tell me to become better friends with Whitney, because we clearly have the same style taste–I also bought a leather skirt from Zara this weekend. Mine is shorter, though (see left), and not red, but otherwise, it's got the same qualities going for it. It's office-appropriate (with tights and boots), it can magically transform into a date-night outfit, and it is so fall to me–I will most definitely be busting out this skirt at the first sign of a chill in the air. Also of major significance: It's only $29!
Hey Whitney, I say we wear our fall finds to work on the same day. That way, we can be official office twins and thereby solidify our friendship…you in?
Tell us: What's your favorite fall purchase so far?