This Week's Best Dressed Star: Ali Larter Makes a Beyoncé Sandwich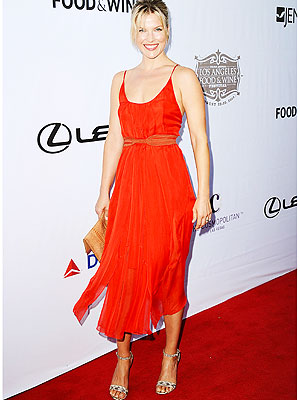 Landov
Her love may be on top, but unfortunately for Beyoncé, her ensemble on this week's 10 Most Loved Looks list is not. That honor belongs to Ali Larter, who turned our world upside down by proving that the impossible feat of outshining Queen Bey is in fact, possible (gasp!).
PHOTOS: Vote on more star looks in Last Night's Look!
The blonde bombshell nabbed the number one spot in a flowy red chiffon spaghetti strap dress that she belted at the waist and paired with snakeskin ankle strap heels and a coordinating snakeskin clutch at the Los Angeles Food & Wine Festival. The actress's classic red dress garnered nearly 26,000 votes, packing enough of a punch to beat out the superstar songstress's body-hugging black dress with cut-out panels along the sides that she complimented with a whole lot of Lorraine Schwartz bling and sky-high platform heels at a post-VMAs party (earning 21,000+ votes).

Trailing close behind Beyoncè's number two spot is Ali Larter again (how greedy!), earning over 21,000 "Love it" votes in a strapless Marchesa floral-print peplum dress that she wore to a party celbrating the release of her cookbook Kitchen Revelry in West Hollywood.
Rounding out the top five is Milla Jovovich's black tweed mini and open-toe booties combo alongside Jordana Brewster wearing a silky white tank above a graphic-printed skirt and ankle-strap sandals.
Tell us: What do you think? Did Ali deserve the title of best dressed star? Or was someone else your favorite?
–Storm Heitman