Apparently, All It Takes To Be 'Best Dressed' Is a Black Jumpsuit (and/or To Be Keri Russell) These Days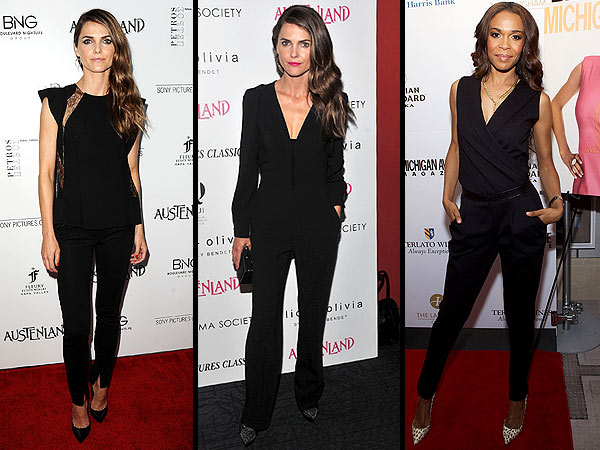 Jon Kopaloff/FilmMagic; Richard Shotwell/Invision/
There was definitely a trend happening in our Most Loved Looks list this week — and it wasn't too hard to detect. A quick glimpse at the top three looks most "hearted" by PEOPLE.com readers showed that there were two ways to reach the top spots: To wear a black jumpsuit, or to be Keri Russell. Or both.
RELATED PHOTOS: Vote on more awesome star style in Last Night's Look!

Russell dominated the list in very similar looks to sweep the numbers one and two spots, in a lace-accented, cap-sleeved number at the top of the list and a sleek Stella McCartney look for the runner-up place.
And at press time, Michelle Williams was holding strong in the third spot in an equally classy black Piper Gore jumpsuit and similarly glossy waves, though she jazzed her monochromatic number up a bit with some printed pumps.
Tell us: Do you think all three ladies deserved to dominate the list, or are you ready for the jumpsuit trend to jump out of sight?
–Rosie Lai