Ashley Greene's Hot Pink Bridesmaid Gown: We Know Where to Get It!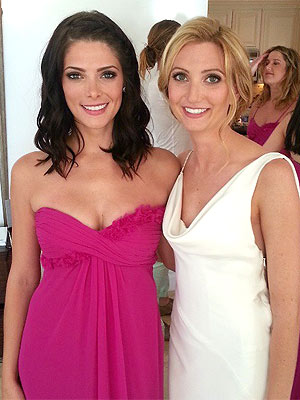 Courtesy Julie Harris
Ashley Greene has all the luck. She's got amazing hair, a glamorous lifestyle — and her best friends pick bridesmaid dresses that she'll be able to wear again.
At her publicist's wedding in Turks and Caicos, the Twilight star was snapped by celebrity makeup artist Julie Harris in a sweetheart-neckline hot pink dress with floral detailing along the bodice. Another shot by Harris showed how striking the gowns were against the ocean backdrop.
And Greene clearly loved the gown, sharing her own full-length photo of it hanging next to the cute bridesmaid gift and flowers she received.
RELATED PHOTOS: See more star wedding gowns and bridesmaid dresses here!
Dying to get your hands on one? It's a $350 Monique Lhuillier Bridesmaids dress, available at Bella Bridesmaid.
Think your bridesmaid dresses stack up to Greene's? Make sure to upload them to our Your Turn challenge. And don't forget to give your lovely friend a shout out, as Greene did, calling her pal the "most beautiful bride ever."
Tell us: What do you think of Greene's bridesmaid dress? What did your favorite bridesmaid dress look like?