Style Rx: Halle Berry Appears to Have Caught Bieber (Pants) Fever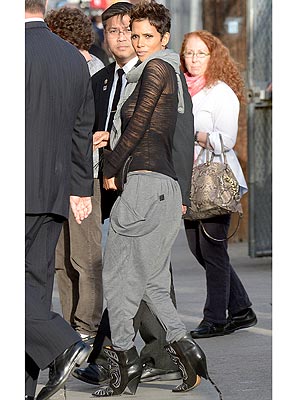 Splash News Online
Who: Halle Berry
Where: Visiting the L.A. set of Jimmy Kimmel Live
Diagnosis: It's no secret that Bieber Fever is highly contagious, but we didn't know even red carpet pros like Berry could fall victim to it. Symptoms include screaming for joy every time "Beauty and the Beat" comes on the radio and hallucinating that extreme drop-crotch pants are a wise investment.
RELATED PHOTOS: Vote on whether these celeb looks are amazing or awful in "Obsessed or Hot Mess?"
Prognosis: If something makes even Berry's butt look bad, that's a sign that it should be eliminated immediately. We'd prescribe an immediate switch to sleek leather leggings (we know she has these readily available), and while we're at it, we'd leave the French Cowboy boots in the closet and add a colorful pump to liven up the look a bit.
–Alex Apatoff
Tell us: How would you "cure" Berry's outfit?