Lindsay Lohan's Latest Court Look Is a Fashion Felony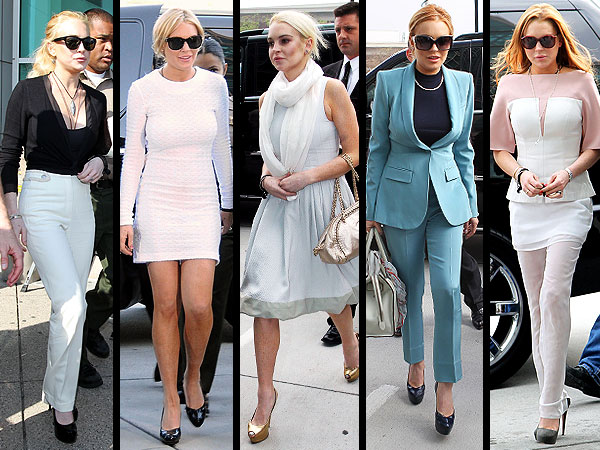 Splash News Online; FameFlynet (2); WireImage; Splash News Online
You may not be able to predict how Lindsay Lohan will travel to court or what time she'll arrive, but there is one thing you can count on: she'll be wearing a truly eye-catching ensemble when she gets there.
For her Monday court date (far right photo), the star appeared in a white peplum number with a beige illusion neckline and those sheer pants that are apparently a huge Hollywood trend these days. She accessorized the look (involuntarily) with a giant handful of glitter.
RELATED PHOTOS: Vote on more star style in "Last Night's Look: Love It or Leave It?"

This is just the latest in a series of questionable outfits that the actress has worn to her court dates. Past looks have included plunging tops, skin-tight minidresses, tight-fitting suits, giant stacked heels and vulgar nail art.
All things considered, Lohan's latest look is pretty tame, but we still want to give her a simple black sheath, single-sole pumps and a set of pearls.
Tell us: Which of Lohan's court ensembles is your favorite? What should she wear instead?
–Alex Apatoff

PHOTOS: Weigh in on more questionable star style in "Obsessed or Hot Mess?"