Buy Kristen Stewart's Oscar Shoes — They're Just $90!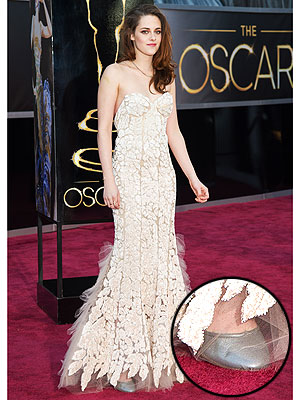 Sara Wood/Zuma
As soon as we saw Kristen Stewart arrive at the Academy Awards on crutches because she'd cut her foot on glass a few days before, we all had the same thought: She finally has a great excuse to wear those old sneakers she loves so much. (It wouldn't be the first time she's worn them on a red carpet.)
So we were surprised to learn that instead of wearing high-tops or beaten-up Chuck Taylors, Stewart went with one Jimmy Choo heel and one cute, chic, Oscars-appropriate flat on her injured foot.
The flat she wore on the carpet (and later while presenting the award for Achievement in Production Design alongside Daniel Radcliffe) was half of a silver pair of Bloch "Fonteyn" ballet slippers from the brand's 2012 collection. And you can pick them up for $90 (some colors are even cheaper!) at Zappos, in case you ever have a Stewart moment and can't fathom strutting around in skyscraper stilettos. Tell us: What do you think of the flats? Are you at least a little impressed that she didn't opt for sneakers?
–Jennifer Cress