Kim Kardashian Goes Back to Bangs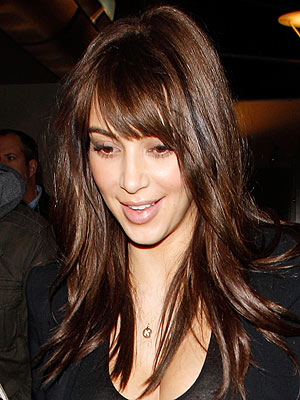 XPosure
Guess who has another new look?
Kim Kardashian touched down at Los Angeles International Airport on Tuesday night sporting freshly cut fringe. The reality starlet — who'd been in New York City for a photo shoot — also had a sleeker, shorter 'do, courtesy of celebrity hairstylist Chris McMillan.
"Fun shoot today @chrismcmillan He just can't control his scissor hands! #bangs," she Tweeted to fans, along with an Instagram collage of the hair-cutting process.
McMillan — best known for giving Jennifer Aniston the famed "Rachel" hairstyle — Tweeted his own pic and mentioned his love of Kardashian's new look. "BANGS!!! @kimkardashian #love #fringe #photoshoot #sexy."
Interestingly, it was about exactly one year ago when Kardashian tried bangs (presumably clip-ins) for a New Year's Eve party in Las Vegas. At the time, her tresses were longer and darker, making the look a bit more severe than her newer, softer style.
The woman definitely changes hairstyles a lot, but we're liking this new look — are you? Tell us: What do you think of Kardashian's new 'do? 
PHOTOS: SHOP THE SEVEN HAIR PRODUCTS THAT WILL CHANGE YOUR LIFE