Kristen Stewart vs. Cher: Who Rocks a Sheer Bodysuit Best?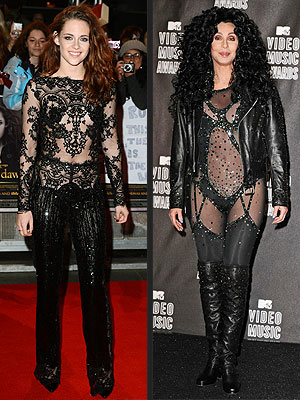 Splash News Online; WireImage
Banging bodies. Major success. Sheer jumpsuits. Three things Kristen Stewart and Cher have in common. But does K. Stew's Zuhair Murad creation live up to Cher's legendary black bodysuit?
Stewart wore her revealing ensemble — a shimmering, backless number — to the London premiere of The Twilight Saga: Breaking Dawn — Part 2 on Wednesday and earned mixed reviews from readers, some of whom found it sexy and some who thought it was salacious.
Cher has worn black bodysuits a zillion times throughout her career, most recently to the 2010 MTV Video Music Awards (left) — and most famously in her "If I Could Turn Back Time" video. And we've gotta say: she's worn them well.
So who looks best? The newbie or the old (yet ageless) pro? Vote in our poll below!
PHOTOS: WEIGH IN ON MORE OF THE STARS' SARTORIAL REPEATS IN 'FASHION FACEOFF'