Red Carpet Confidential: Behind-the-Scenes Secrets from Gwyneth Paltrow's Stylist!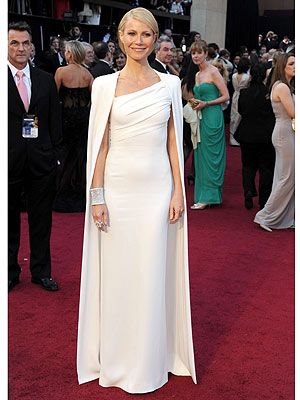 Michael Buckner/Getty
The editors of PEOPLE may have crowned her the world's best-dressed woman, but Gwyneth Paltrow can still be surprised by her own fashion influence. Just ask her stylist, Elizabeth Saltzman: "She's always shocked when a store will call me and say, 'What was that jean [Gwyneth was wearing]? I've had 80 people come in today looking for it!' Gwyneth will say, 'Really?!'"
It's Paltrow's signature minimalism that makes her a style icon to so many. But don't expect to find her closets bursting with couture. "She has an edited wardrobe," says Saltzman, who adds that the Goop.com founder does most of her shopping online, at sites like net-a-porter.com. After she wears an outfit, "It all gets put away and documented — when and where she wore it — and then it's gone [into storage] for her daughter. She's not a hog."
Whether strutting through the airport in layers of cool-girl labels like MiH (for jeans) and rag & bone (for boots), or rocking a modern Stella McCartney gown at the Grammys, "Gwyneth always relies on really clean lines," says Melanie Kain, who co-designed a T-shirt with Paltrow for Goop. "That is why she always looks appropriate and comfortable in her own skin."
She's rarely looked more so than at this year's Oscars. The instant Saltzman unveiled Tom Ford's stunningly sophisticated gown and cape, "It was just, holy moly," says the stylist. "Everyone was hugging each other. It was done." Paltrow, who tends to nix busy prints and billowing shapes, immediately loved the look.
"I usually bring no more than four things for her to look at," says Saltzman of red carpet events. "For the Oscars, I bought her one. I did have a second dress there, but I never even unpacked it." Confident her client would stand out from the crowd, "I said, 'Hey y'all, in your sequins and your tulle — side slits, beads, color!' It was a moment where you just put up your hand and go, 'I'm sorry,'" says Saltzman. "No one had rocked a cape. No one had gone dead simple. You just knew it was going to change fashion."
For more secrets of Patlrow's style, pick up PEOPLE's Best & Worst Dressed issue, on newsstands Friday. Tell us: Do you like Paltrow's style? If not, who earns your vote for best-dressed woman in the world?
–Suzanne Zuckerman, with reporting by Raha Lewis