Miley Cyrus's Newest Hairstyle: Extra Short and Extra Blonde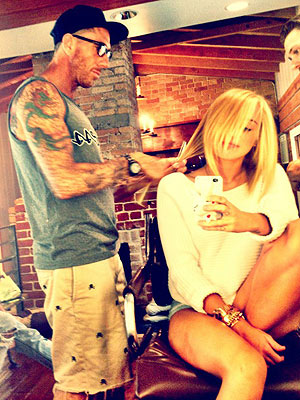 Courtesy Miley Cyrus
More is more for Miley Cyrus — if by more, you mean more highlights and more inches off of her 'do. The starlet took to Twitter over the weekend to share photos of her latest haircut and color, performed by her friend, celebrity stylist Chris McMillan.
Calling herself McMillan's "favorite little angel," Cyrus posted a series of shots of the process, capping them off with a photo of the final product, still able to fit in a bun ("Whew," as she said).
It's been a busy month for Cyrus's hair; in mid-July, the bride-to-be chopped a few inches and went blonde after months of working a golden-brown shoulder-length style. With so many modifications in just three weeks, we wonder: will she change her hairstyle again soon? And what should she do next? Vote in our poll below!