Scoop Up Star-Designed Shoes -- for a Cause!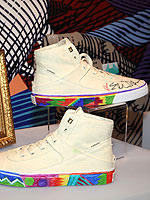 Courtesy Project Canvas
Want to walk a mile in Ellen DeGeneres's shoes? If you have some cash — and a big heart — you can do just that. The talk show hostess — plus stars like Cee Lo Green, Swizz Beatz and Mariah Carey — decorated cute kicks (left) for charity recently to celebrate the launch of new sneaker line Project Canvas. The socially conscious company promotes creativity amongst youth by supporting underfunded creative arts programs in public schools; to drive the point home, Project Canvas is auctioning off the star-designed shoes online beginning Thursday. Once the auction closes next week, 100 percent of proceeds earned will go to the Urban Arts Partnership, a non-profit that serves difficult-to-reach youth attending schools in New York City. Visit projectcanvasshoes.com/auction to learn more and place your bid.