Dakota Fanning: I Influence My Sister's Style — Because She Steals My Clothes!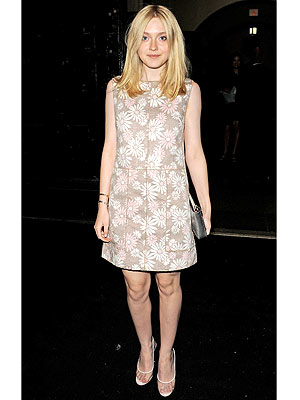 Bill Davila/Startraks
"I've always really liked fashion, because my mom is really into fashion," Dakota Fanning recently told FabSugar. "It's always kind of been a part of our lives, both Elle and I."
Because of that, the sisters are generally out in designer duds — looks by Miu Miu, Marc Jacobs and Rodarte to name a few — but it does cause some closet confusion at home. "I've influenced [Elle's] style because she's stolen my clothes!" Dakota joked.
Speaking at the Cosmopolitan Fun Fearless Female Awards in New York City, Dakota said her sister actually has a "completely different" style from her own. But she still looks to her for advice sometimes. "I've found myself having to go to the little sister, asking her, 'Oh do you like this outfit?'" Dakota admitted. "It's kind of a sad day for a big sister when you have to ask your little sister's opinion."
However, it sounds like Dakota is doing just fine in the fashion department; the actress shared that she puts a lot of thought into her look every day. "I don't have a particular style, I try to do different things all the time," she explained. "I usually wake up a different person every day, and decide to wear something completely out of the ordinary." In that way, she said, "I would hope that I am fearless."