Rodarte Designing for 'The Hunger Games'?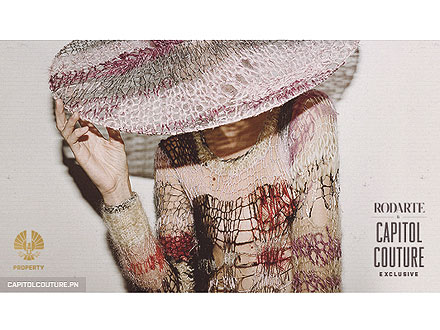 Courtesy Lionsgate
We're still trying to wrap our heads around The Hunger Games's Capitol Couture site — Who writes it? Why does it seem so mysterious? — but a recent posting caught our eyes. Rodarte designed a "charming chapeau" (above) that "could indeed be gracing a head of a Capitol socialite at this year's Opening Ceremonies."
The tulle-and-knit hat is made of mohair, alpaca and "other various wools" — all (fictionally) courtesy of District 11, the nation of Panem's agricultural center. The sweater the model sports looks fairly similar to the Rodarte creation Natalie Portman recently wore to the label's fall fashion show, too.
Rodarte — founded by sisters Kate and Laura Mulleavy in the early 2000s — is a celebrity favorite, adored by the likes of Rooney Mara, Elle Fanning, Kate Bosworth and more. The designers have dabbled in movies before; they were responsible for creating Portman's dramatic black tutu in Black Swan. Tell us: Who would you want to see wearing this Rodarte hat in The Hunger Games?