She's Tops: Kate Named 'Hat Person of the Year'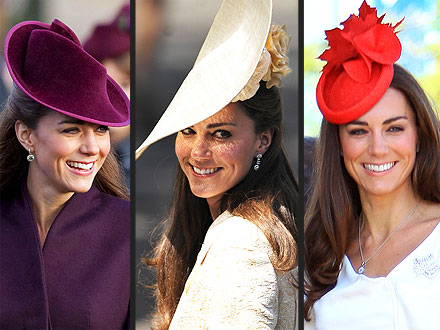 Rex USA; Landov; Splash News Online
Hats off to Kate: the Duchess of Cambridge was just named "Hat Person of the Year" by The Headwear Association. Beating Rachel Zoe, Ne-Yo, Justin Timberlake, Bruno Mars and Charlie Sheen — and taking a whopping 91 percent of the vote — the Duchess was the obvious favorite of online fans.
The Headwear Association — an organization founded in 1908 that "promotes hat wearing and the headwear industry throughout the world" — highlighted some of Kate's best hats, including the velvet cabernet hat she wore on Christmas (left) and the memorable maple leaf headpiece by Sylvia Fletcher at Lock and Co. that she selected for Canada Day in July (center).
Kate is the third star to win top honors from The Headwear Association; Johnny Depp nabbed last year's title, following in the footsteps (er, headprint?) of the organization's first-ever winner, Brad Pitt. Tell us: Are you a fan of Kate's hats?
HUNGRY FOR MORE HATS? LOOK BACK AT THE ROYAL WEDDING'S BEST TOPPERS