Eva Amurri's Wedding Gown: All the Details!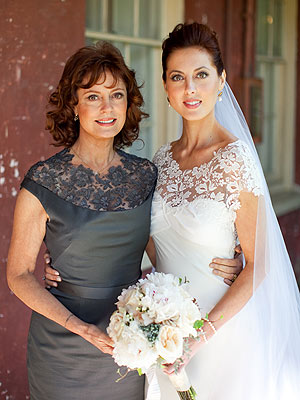 Tec Petaja/Getty
When Eva Amurri began planning her Charleston wedding to Kyle Martino, the pieces all fell effortlessly into place — every piece but her dress, that is.
She tried on numerous white gowns, but "they didn't feel like me," she told PEOPLE in September. "I just felt like my head was stuck on a different girl's body." But after some tireless Internet searching, Amurri believed she'd finally found her dream dress. "I just fell in love with it," she said.
The bride asked designer Lela Rose to create a breathtaking look for her big day, using the satin-faced silk "The Woods" gown with three-dimensional lace yolk and low back as her base. For a personal touch, Amurri and Martino's wedding date was embroidered in the lining in pale blue, for the bride's 'something blue.'
Amurri commissioned Rose to make mom Susan Sarandon's mother-of-the-bride dress, too; she produced a silk faille sheath that also featured a three-dimensional lace neckline. "Eva loved the idea of them sharing a design detail," Rose tells PEOPLE. "The three-dimensional lace seemed so fitting for both and gave a nod to their close relationship."
Though all eyes were on the bride — who paired her dress with kitten heels she found online for $80 — the groom had his own dapper getup, as well. "Kyle's tux is gorgeous," Amurri adds. "Brioni made it especially for him."
But nothing could compare to seeing Amurri walk down the aisle in her custom gown. "Working with Eva and Susan was an honor. I was well aware of their talent and beauty but their incredible graciousness made the experience one I will not soon forget," Rose shares. "And when Eva put on the gown, of course she was stunning but you could immediately see how comfortable she was. She felt like the most beautiful version of her everyday self. Once we made a few tweaks, the gown was undeniably her."
"I love my wedding dress," adds Amurri. "It was just perfect for me, and already feels like it would be hanging in my closet. I loved it from the moment I tried it on."
–Jennifer Garcia