DEAL OF THE DAY: 20% Off of Tiffany Chou Jewelry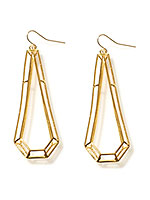 Growing up in Maui, Tiffany Chou found herself inspired by art, nature and the ocean. She began making her own clothing and jewelry at the young age of 14, graduated from the School of the Art Institute of Chicago and interned for photographer David LaChapelle before studying with pros from Urban Outfitters and Anthropologie and working for Ralph Lauren.
Now, her delicate gold and silver jewels — many featuring ocean-themed charms depicting shells and seahorses — brighten up any outfit. Add some sunshine to your look with items like these "Sunstone Cage" earrings, $104 with discount, by clicking here.