DEAL OF THE DAY: 20% Off of Sauipe Swimwear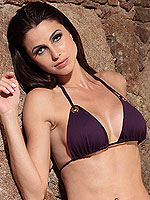 You know your swimwear is sexy when it's made it to the ultimate swimsuit showcase: the Sports Illustrated swimsuit issue. Sauipe's suits have made it into three of the recent issues — and it's no wonder, given their sexy cuts and glamorous styles.
Inspired by a trip to Brazil, the designers incorporate their love of the white sand and vibrant culture into each suit, resulting in an unmatched cool and eye-catching aesthetic perfect for beachgoers of every shape, size and style. Stock up for any upcoming cool-weather getaways (Miami, anyone?) with a discount, making this bikini $128, by clicking here.