DEAL OF THE DAY: 25% Off of Pure Style Girlfriends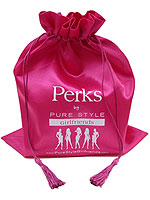 With all the backless gowns and plunging necklines at the Emmys, we bet a lot of Hollywood's hottest stars were grateful for Pure Style Girlfriends. The celeb-loved line of outfit helpers (think double-sided tape and concealers) is perfect to stock up on pre-holiday parties, bachelorette outings and anything where you want to show off without showing too much.
Their latest miracle worker? An adhesive backless, strapless bra called PERKS that gathers, lifts and keeps in place — and has the extra genius touch of having 15 holes around the bra cup in which to insert the accompanying clear bra straps, ensuring that straps will always go unnoticed if you're not ready to go without. Pick up your hottest dress's new BFF for only $30 with our exclusive discount.