DEAL OF THE DAY: 20% Off of Miriam Salat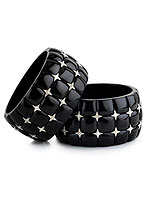 When you're a diva with a reputation for dramatic looks like Katy Perry or Jennifer Lopez, you can't wear just any jewelry to go with your outfit. Enter Miriam Salat, whose eye-catching baubles have gotten the attention of those stars and more (she also counts Jennifer Hudson and Sandra Bullock as fans!).
Luxurious without being stuffy, edgy without being over-the-top and fancy without causing a scene, her stylish, colorful and chunky bangles, earrings and rings are standout pieces you'll wear everywhere. Get a discount on items like this quilted cuff, $284 with discount, by clicking here.