DEAL OF THE DAY: 50% Off at Scarves.com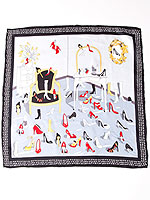 The name says it all: scarves.com carries an encyclopedic selection of all things neckwear. From knit and loop scarves to shawls and pashminas, the site has every accessory possible, perfect for keeping warm, pumping up a plain outfit or just making a style statement. Shop by trend, material, style, season — you can even search a selection of scarves for men.
Check out lots of lovely looks, like the "So Many Shoes" neckerchief, $13 with our discount, by clicking here.