DEAL OF THE DAY: 20% Off of Mojo Backpacks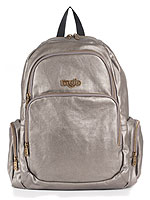 Take the boring out of back-to-school with Mojo's head-turning backpacks. Whatever you're looking for, from edgy to girlie, Mojo has the carry-all that will go with you all over campus without cramping your natural style. Messengers, prints, puffy, plaid or artsy, Mojo has you, your kids and your beau covered.
Get a great deal on items like this silver backpack, $56 with discount, by clicking here.