DEAL OF THE DAY: 20% Off of Tulle Clothing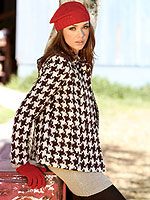 What's better than super-stylish, on-trend clothes for fall? When those clothes are also totally affordable! Tulle makes your dreams come true with its line of fun, fab togs that are perfect for back-to-school, fall dates and weekend outings. Flirty dresses, tailored blazers and cute coats are par for the course — and most pieces are less than $100.
Treat yourself to some fun, fashionable finds (and keep your lunch money in your pocket!) by shopping with our exclusive discount, making this houndstooth peacoat $76, by clicking here.