DEAL OF THE DAY: 20% Off of Rosena Sammi Jewelry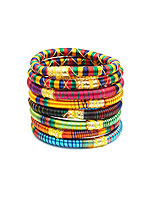 Rosena Sammi draws design inspiration from the world around her, which isn't so surprising: born in New Zealand, of Sri Lankan heritage and now a Manhattanite, the jewelry designer goes for an aesthetic that combines Indian artisanship with modern style. She launched her line in 2006 after struggling to find jewelry that was "historically opulent" yet wearable, and now stocks her site with charming rings, whimsical necklaces and delicate earrings that will definitely be conversation starters.
Grab these "Monsoon Striped" bangles, $40 with discount, by clicking here.